New Resources for Florida's Gardening Communities
Did you know that the "Florida Vegetable Gardening Guide" is UF/IFAS Extension's most popular document? It received over 113,000 views in 2020 alone. As we begin 2021 we're excited to highlight new ways Floridians can access this research-based information.
Florida Fresh Web Tool
Florida Fresh is a very useful web tool that has received recent updates. Simply enter your zip code and the website displays crops to plant in your area this month. It also lists fruits and vegetables that are in season for your area. This web tool is easy to access on a computer or mobile device.
"The Florida Fresh web app offers a modern-day way to access the information in the vegetable gardening guide," says Sydney Park Brown. Park Brown is a UF/IFAS Extension associate professor emeritus and the content editor for Florida Fresh.
We agree; the simple layout and personalized content make it a helpful resource for new gardeners. Clicking on "Gardening Info" at the top of the page sends users to a list of gardening resources. Links include the "Florida Vegetable Gardening Guide," Ask a UF/IFAS Extension Expert, and many more.
This UF/IFAS resource was originally developed through funding from the UF/IFAS Center for Land Use Efficiency (known as the Center for Landscape Conservation and Ecology at the time). It is modeled after a similar tool developed by the Alabama Cooperative Extension System.
Updated and Expanded "Edibles to Plant" Infographics for 2021
Over the years, the feedback for our original "Edibles to Plant" infographics has been overwhelmingly positive. Still, we felt there was room for improvement. In 2020 we began working on an updated and expanded edition of this popular resource.
Fans of the infographics often asked for more heat-tolerant crops. They wanted choices better suited to Florida's unique climate. More crop suggestions for May, June, and July were also commonly requested.
We're thrilled to tell you that the 2021 editions of "Edibles to Plant" are finally here. And they have been expanded to include more than a dozen new crops! We've added boniato, calabaza, papaya, roselle, tropical spinaches, and many other Florida favorites.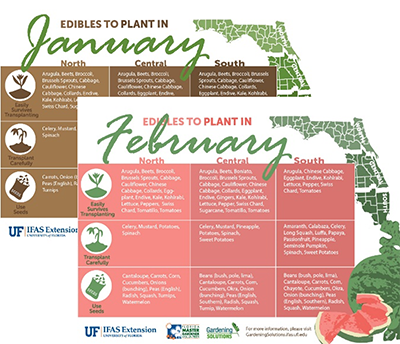 These new editions will be released in batches throughout 2021. Accessible versions are in production as well. Both will be available in full resolution and as PDFs on Gardening Solutions as they are released.
Our sincere thanks goes to the dedicated Extension agents and volunteers who contributed to our revisions. Their help brainstorming, editing, and filling in regional gaps has been indispensable. We'd also like to extend our appreciation to our extraordinary Master Gardener Volunteer community: For all your service to your community and the expertise you share so generously, thank you.
Spanish version of Florida Vegetable Gardening Guide / Guía para Cultivar Vegetales en la Florida
Clearly the "Florida Vegetable Gardening Guide" is becoming more accessible, year by year. In November of 2020 we reached another accessibility milestone. UF/IFAS released a Spanish edition, the "Guía para Cultivar Vegetales en la Florida." The translated guide is available at EDIS, an online repository of all current UF/IFAS numbered peer-reviewed publications, and as a PDF.
This is excellent news for the nearly 1 in 5 Floridians who hablan Español. Our special thanks to Professor Danielle Treadwell and Extension agent Francisco Rivera for making this translation possible.
And our most popular Extension document is not the only Spanish-language publication available from UF/IFAS. Dozens more are available on EDIS and the list is growing each month. Topics include agriculture, ecosystems, landscaping, and more.
We hope these resources will be a joy to reference and to share with your communities. For more information about any of the above, please contact your county Extension office.
Links to resources in this article