Coral Ardisia
By Marc Frank, Extension Botanist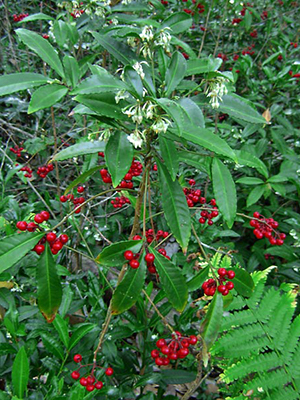 Ardisia crenata, commonly known as coral ardisia, coralberry, Christmasberry, hen's eyes, or scratchthroat, is native to Southeast Asia, China, Taiwan, Korea, and Japan. Numerous references state that it is also native to India, but this is not substantiated by herbarium specimens or any of the published Indian floras.
This species was first described in 1817 by the British physician and botanist John Sims. By 1825, it was offered for sale as a greenhouse plant by the oldest commercial nursery in the United States, Prince's Linnaean Botanic Garden and Nurseries in Flushing Landing, New York. Here in Florida, Royal Palm Nurseries in Manatee County was selling coral ardisia as early as 1896.
Coral ardisia has long been promoted in Florida as a landscape ornamental because it tolerates a variety of soil types, shade, and drought. It is a compact shrub, with attractive, glossy foliage, and produces an abundance of showy, scarlet red fruit, which are held on the plant for a long time. Unfortunately, it has escaped from cultivation and become invasive in much of Florida. UF Herbarium specimens indicate that as early as the 1960s it had spread into natural areas in Alachua and Pasco counties. According to the Atlas of Florida Plants, it is now documented with herbarium specimens from natural areas in 30 counties (from Palm Beach and Lee counties on the southern peninsula to Escambia County on the western panhandle). The Early Detection and Distribution Mapping System (EDDMapS) reports coral ardisia in the wild in 16 additional Florida counties, as well as in southern Georgia, southwestern Alabama, Louisiana, southeastern Texas, and Hawaii. Overseas, it is considered invasive in tropical Australia, New Zealand, Fiji, the Seychelles, and South Africa.
In Florida, coral ardisia forms dense colonies in forests, coastal hammocks, and scrub habitats. These dense stands outcompete and smother the seedlings of native species, and produce copious amounts of fruit, which are readily dispersed by birds and small mammals. In July 2014, the Florida Division of Plant Industry (DPI)—the division of the Florida Department of Agriculture and Consumer Services that is responsible for regulating and protecting our nursery, agriculture, and honey bee industries—added coral ardisia to the Florida noxious weed list. This means it is now illegal to possess, propagate, transport, or sell this species within the state without a permit issued by the Division. The UF/IFAS Assessment of Non-Native Plants in Florida's Natural Areas, which all Master Gardener volunteers should be following when making recommendations to the public, indicates that this species is prohibited. Because of the impacts to our natural lands, it's important that you learn to recognize coral ardisia, remove it from your own garden, discourage your neighbors from cultivating it, and report to DPI any nurseries that you see selling it.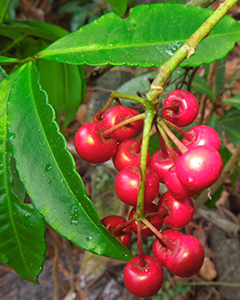 Coral ardisia has a very distinctive appearance and is easy to recognize, even in the seedling stage. It is an evergreen shrub that is typically 2-3 feet tall, but occasionally grows as high as 6 feet. Mature plants usually have a single, leafless stem base with the leaves and short flowering/fruiting branches concentrated in the upper half. The leaves are alternately arranged, rather thick and leathery in texture, and variable in shape from elliptic (widest near the middle) or lanceolate (lance-shaped and widest near the base) to oblanceolate (lance-shaped and widest near the tip). The upper leaf surface is glossy dark green and the lower surface is paler and duller. The leaf margins are crenate (scalloped) with bacterial nodules in the notches between adjacent crenations. The small, star-shaped, white to pale pink flowers are born in clusters at the tips of specialized 2- or 3-leaved lateral branches. Each flower had 4-6 petals, which are recurved (bent backwards) at the tips. The pale yellow, triangular stamens form a cone at the center of the flower. The fruits are pea-sized, single-seeded, and turn bright red at maturity. Seed-grown plants take about two years to produce fruit, and after that time often retain fruit almost year-round. Researchers at UF and in Japan (Kitajama et al. 2006) have found that selection for desirable ornamental characteristics has inadvertently favored traits that increase the plant's invasive potential, such as increased fruit set, denser foliage (which blocks sunlight from seedlings of other understory species), and greater root carbohydrate storage (which promotes rapid re-sprouting after the plant is cut or subjected to fire).
Given the spread of this species in our natural areas, Florida gardeners really don't have any excuse to maintain coral ardisia in their landscapes. Fortunately, there are plenty of non-invasive alternatives to coral ardisia to choose from! These include rougeberry (Rivina humilis), darrow's blueberry (Vaccinium darrowii), shiny blueberry (Vaccinium myrsinites), wild coffee (Psychotria nervosa), marlberry (Ardisia escallonioides), and dwarf cultivars of our native hollies (Ilex spp.).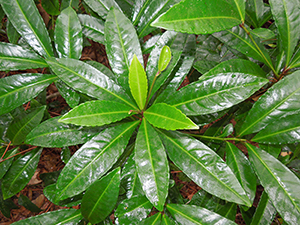 Marc Frank
Extension Botanist
UF/IFAS Plant Identification and Information Service
University of Florida Herbarium
For more information