Window Boxes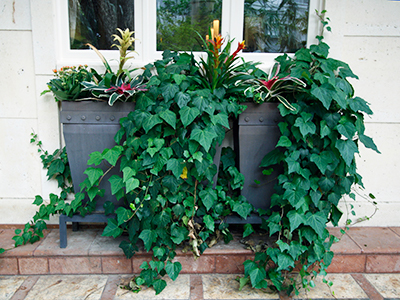 Window boxes add charm, character, and curb appeal to your house. The plant combinations are truly endless; no matter if your style is modern-minimalist, cottage, or artistic, you can likely find a window box and plants to match your aesthetic.
Getting started
Sunlight is the most important consideration when deciding on where to put your window box. Select a window that gets a fair bit of sunlight to be sure that your plants are able to thrive. Once you have taken your sunlight into consideration, be sure the window you are choosing is easily accessible for plant maintenance. You want to make it easy to take care of your plants, not a challenge.
Choose a window box style that complements the aesthetics of your home and speaks to your personal style. Ideally you will find a box that is able to span the width of your windows. Boxes that are much wider than your window or conversely much less wide than the window tend to look a bit unbalanced.
If you are mounting your window box remember, once it is filled with moist soil and plants it will weigh considerably more, so choose the right hardware for the job. If your window box needs a liner, coconut fiber or sphagnum moss are two options that look great, help retain moisture, and keep soil from slipping out of the box.
When planting
When looking for plants, select low growing, colorful, cascading plants. Keep plant height in mind — you want to be able to see attractive plants out your window, but you don't want them to obscure your view.
Herbs are a great choice for window boxes. If you are lucky enough to have a kitchen window that gets good sunlight, you have the makings for the perfect edible window box planting.
Be sure to put your "spiller" plants where they will be able to cascade out of the container for maximum effect.
Remember that any plant you choose will need to be able to thrive in the relatively shallow amount of soil offered by the window box. The depths of window boxes do vary, so just be sure to match your plants to the growing area your window box provides.
With a little work and creativity, you could have your own mini-garden growing just outside your window.
Some Plants for Florida Window Boxes
UF/IFAS Sites
Elsewhere on the Web