Cues to Care
Helping your neighbors appreciate and accept Florida-Friendly landscapes
"Cues to care" are elements signaling that a landscape is actively being cared for. If your landscape is on the less traditional side, cues to care can help soften the contrast between your yard and the manicured lawn next door. These cues add curb appeal and pacify neighbors concerned about property values, too.
One of the chief objections to naturalistic landscaping is that the spaces look "messy" and bring down property values. Cues to care, in this case, can make all the difference.
A wildflower meadow, for example, imitates the landscape in a much wilder area. Understandably it might look messy or even abandoned in a suburban setting. Edging the boundaries, adding a strip of maintained turf in the foreground, or installing some yard art can help show that the "wildness" of the landscape is intentional.
Research on landscape design¹ suggests that effective cues to care share one or more of these qualities:
Are easily recognizable
Communicate intention and ongoing care
Are consistent with local social norms for landscape appearance
Below are a few of our favorite cues to care.
Clean Lines
Clean edges and boundaries – Edging your mass plantings, sections of turf, or transitions to hardscapes is probably the most effective cue to care. These clean lines give a sense of order to the wildest of landscapes.
Fences and borders – If mowing and edging aren't appropriate in certain areas of your landscape, adding a fence or other type of border can offer the same clean, orderly lines. An overgrown bee garden, for example, is more charming when enclosed by a white picket fence or a border of natural limestone.
Familiar layouts – We're not suggesting anything complicated. People just want to be able to find the path from the street to the front door. If a large shrub or a stand of cannas blocks that view, consider moving or thinning the planting a little.
Familiar Design Elements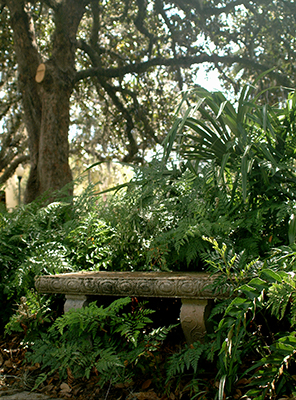 Grouped plantings – Three identical perennials located randomly around the yard, no matter how beautiful, will always look less cared for than those three grouped together. Don't feel like moving plants around? No problem; just add a couple more to each planting. If you have one fabulous, healthy gaillardia by your front walk, plant a couple more and you suddenly have a nicely grouped planting. Denser plantings are the preferred shelter of most wildlife species, too.
Colorful flowers – This is our favorite cue to care! If you were waiting for permission to go buy more plants, this is your moment. Choose natives or Florida-Friendly species, milkweed or camellias, edibles or ornamentals — whatever your heart desires. Just add some color into your landscaping.
Seating – Seating areas are inviting. Especially effective at the edge of larger shrubs or understory trees, a bench or another seating area can show that the landscape is in use. True, the shrubs and understory trees may only be regularly visited by wildlife, but a recognizable place to sit suggests otherwise.
Lawn art – Lawn art is a matter of personal taste. Some neighborhoods may even have restrictions on lawn art. Others may have no explicit rules, but good relations with your neighbors may be on the line. For that reason we don't suggest you cover the yard in plastic pink flamingos. But a bird bath, trellis, or another familiar piece of lawn art communicates intention and care just as clearly.
Obvious Maintenance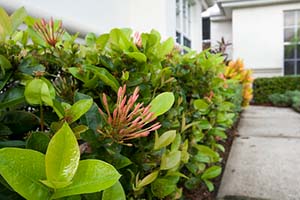 Regular mulching – It doesn't matter what kind of Florida-Friendly mulch you choose, fresh mulch just looks good. UF/IFAS recommends 2-3 inch layers of mulch for weed suppression. If your mulch layer is over 2 inches but beginning to look a little worn, adding a thin layer of fresh mulch can show that you're committed to regular upkeep.
Pruning – You don't need to prune plants into perfect squares to signal that the landscape is being maintained. If your most prominent trees and shrubs are pruned lightly, once a year, that's generally enough to keep the landscape looking tidy. Proper pruning actually enhances the natural form, increases airflow, and contributes to strong structure.
Weeding and lack of litter – Another powerful cue to care is the absence of obvious weeds and litter. Obviously a weed-free property is never going to happen, but keeping the weeds small adds plenty of curb appeal. Litter, too, is almost never the fault of the gardener, but it still signals neglect. Picking up any obvious litter each time you take out the trash will help maintain curb appeal.
Looking for more landscaping help? We recommend these free resources from the Florida-Friendly Landscaping™ Program. The staff and volunteers at your county Extension office are available to answer your landscaping questions and always happy to help.
Also on Gardening Solutions
More from UF/IFAS
Sources
1. Jiayang Li, Joan Iverson Nassauer, Cues to care: A systematic analytical review, Landscape and Urban Planning, Volume 201, 2020, 103821, ISSN 0169-2046, https://doi.org/10.1016/j.landurbplan.2020.103821.