Simpson's Stopper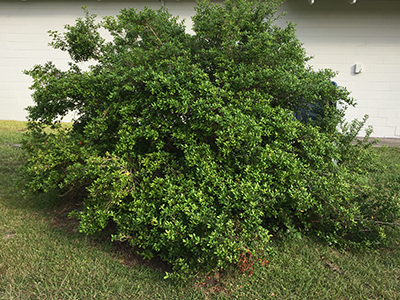 Simpson's stopper (Myrcianthes fragrans) is a Florida native that provides your landscape with springtime flowering, colorful berries, and evergreen leaves. Not only does it look great, this plant is versatile; it can function as a shrub or a small tree depending on the cultivar and how you prune it. A plant that seems to be able to do it all with little maintenance — what's not to love?
Sometimes known as twinberry, this landscape plant is a member of the Eucalyptus family, Myrtaceae. Beyond the borders of our own state, it's also native to the Caribbean, Mexico, and Central America, south through Columbia and Venezuela. On the southern Bahamian island of Mayaguana, forests of Simpson's stopper can be seen growing on elevated rocky ridges. It's interesting to note that while found throughout the West Indies, Simpson's Stopper is rarely found in Puerto Rico.
Characteristics
Simpson's stopper is lovely in the garden any time of year. The evergreen leaves of this woody native contrast nicely with new growth which can range in color from pale chartreuse to deep wine. The leaves are also fragrant when crushed, giving off a spicy/citrusy scent similar to nutmeg. The exfoliating bark of Simpson's stopper also provides some visual interest year-round; outer bark flakes off to reveal bark in shades of reddish-brown.
The look of your plant will depend on the amount of sun it gets. When planted in full sun, Simpson's stopper forms a densely growing plant that makes a great hedge. In partial shade, the foliage is less dense, but this just affords a better view of the exfoliating bark.
Generally, when grown in Florida, Simpson's stopper can grow up to 20 feet tall depending on the growing conditions. If you're looking for something a bit smaller, 'Compacta' is a dwarf form that reaches 5 feet tall and is ideal for smaller landscapes. If you want to see a champion Simpson's stopper, the winner is 38 feet tall and living in Okeechobee County — it's the largest known tree of this species in the country!
Flowering occurs generally in April and May in Florida. The showy white flowers, which are also fragrant, are followed by orange to red berries in late summer and early fall. While these berries are edible for humans (excepting the seeds), they are not often considered palatable.
Simpson's stopper is great for attracting some wildlife darlings like butterflies, bees, and birds. The flowers bring in the pollinators and the dense canopy offers protection for birds, which also feed on the small red fruits. Buntings, cardinals, blue jays, and the official state bird, the mockingbird, are some you might see enjoying the berries.
Found growing naturally in seaside hammocks, Simpson's stopper is a great choice for coastal gardeners looking for a plant that's tolerant of salt and alkaline growing conditions. Recommended for zones 8b to 11, Simpson's stopper is cold hardy down to 25°F (maybe even lower) and can be used all along the East Coast as far north as Charleston, South Carolina. Not just for coastal regions, it does very well when grown inland as well. To add to its versatility, Simpson's stopper is also drought tolerant once established and moderately wind resistant once mature.
Simpson's stopper is a threatened plant species and is listed on the Florida Department of Agriculture and Consumer Services' threatened list. With this status, it is always important to obtain plants from a reputable nursery and never from the wild.
Planting and Care
A slow-growing plant that requires little maintenance, Simpson's stopper will thrive in full sun to partial shade; although as previously discussed, the exact level of light will affect the plant's form. While a mature Simpson's stopper is drought tolerant, you'll still need to monitor your young shrub for drought stress for the first four years during extended dry periods. Once established, your Simpson's stopper will need little to no additional irrigation. Not only does this plant tolerate drought well, it also tolerates areas with poor drainage.
Simpson's stopper also has very few insect or disease problems. Occasionally a stressed Simpson's stopper might have issues with guava rust disease, although occurances are rare. This fungal disease appears on new growth as rusty spores and eventually causes dieback. Treat affected plants with a fungicide labeled for this particular disease and for use on ornamentals.
The small of amount of maintenance that is required for Simpson's stopper will be pruning, but with such slow growth, it won't be a major undertaking. Consequently, your time commitment for pruning will vary depending on your desired shape and form. Generally, these plants grow about a foot each year until they reach maturity. When planting Simpson's stopper to create a hedge, space your plants 3 to 5 feet apart from each other. When growing as a hedge be aware that pruning too frequently may negatively impact flowering and fruiting; however, your plant will still provide you with a lovely evergreen hedge. This plant can actually tolerate severe pruning, which is why it does so well as a hedge—as well as a bonsai, topiary, or even a container plant. And if major pruning isn't your thing, but you still want to find a place for Simpson's stopper in your landscape, don't forget it does quite well as a small, informal tree.
Whatever your need, Simpson's stopper is an easy-care native that shines in many Florida landscapes. For more information on this and other landscape plants, contact your county Extension office.
Also on Gardening Solutions
UF/IFAS Publications