European Fan Palm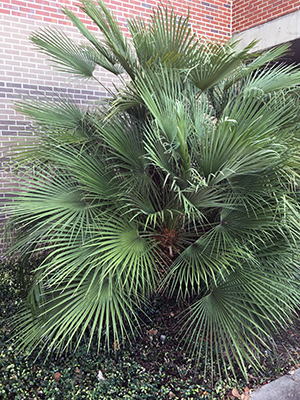 Looking for a cold-hardy palm? Maybe something multi-trunked and compact? Well look no further than European fan palm, Chamaerops humilis.
Its palmate leaves can add a tropical look to your landscape in a variety of ways, perhaps for poolside ambiance or as a landscape accent piece. European fan palm, sometimes called Mediterranean fan palm, also works well when grown in containers or clustered in the landscape.
Characteristics
European fan palm is a slow-growing, clumping palm that grows 8 to 15 feet tall and spreads 6 to 10 feet wide. This is the only palm native to Europe and it is hardier than most palms. Plus, it's on the Florida-Friendly Landscaping™ plant list.
The fine-textured fronds make this palm stand out from other plants in the landscape. Leaf color ranges from lovely light green to stunning silver. The fronds are held on curved, short trunks. Small clusters of yellow flowers form in the spring and are followed by inconspicuous fruits. Young or mature, this palm makes a stunning sculptural element in a garden or in a patio container.
Planting and Care
North Florida gardeners can rejoice at the hardiness of these palms which grow in zones 8 to 11. Established European fan palms can survive temperatures to 10 degrees or even lower; the foliage may be damaged, but the trunk survives and re-leafs. As an added bonus these plants are highly drought tolerant once established. They are however not salt tolerant. Another benefit of European fan palm is that it seems to be resistant to lethal yellowing disease which is a problem for many palm species.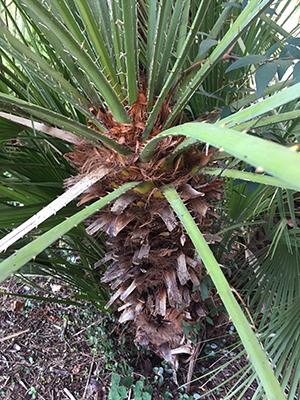 European fan palm grows in partial sun and partial shade. While it may grow slower in the shade, the fronds will grow slightly larger than when it is grown with more sunlight. When choosing a planting location keep in mind that sharp teeth line the stem of each frond, so you may want to choose an area where pets and people won't come into contact them.
European fan palms are usually multi-trunked, but plants can be grown as a single-trunked specimen by removing suckers from the base of the main trunk.
UF/IFAS Publications
Also on Gardening Solutions