Zinnia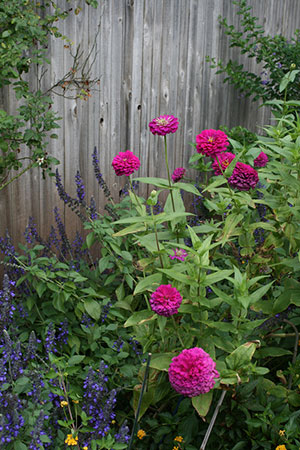 An old favorite that works well in Florida gardens, zinnias are annuals with beautiful flowers that come in vivid colors like red, pink, yellow, and purple. In fact, this heat-loving flower comes in pretty much every color except blue.
Characteristics
Originating in Mexico, the zinnia you'll find in most garden centers is Zinnia elegans. They come in so many forms, there's easily one suited for your space. There are dwarf forms that grow no taller than six inches that are perfect for window boxes and containers, but there are also tall forms that are perfect at the back of the flower bed, growing up to three feet tall.
There are different flower forms as well, with some having a simple, single petal layer (looking similar to a daisy), and others have multiple layers, with a few cultivars resembling dahlias.  
Use your zinnias in a mass planting, containers, or as a border. They're ideal for a cutting garden; zinnia bouquets can last at least a week.
Planting and Care
Zinnias are very easy to grow from seed, or can be purchased as small plants in the garden center. They can be planted in the spring throughout Florida and also in the fall in South Florida. Plant after the last frost date and be sure to give them space; crowding encourages disease.
Zinnias need full sun and well-drained soil. Once established, they're drought-tolerant, but will thrive with regular watering. Try to keep water off the leaves, though—most zinnias are susceptible to powdery mildew, although newer cultivars have been bred for resistance.
When cutting flowers, leave enough stem with leaves, and you'll soon find a new bloom growing. You can also pinch them back to encourage fuller growth. For longer flowering, remove the old blooms.  Unlike many bedding plants, zinnias can handle Florida's hot summers, and healthy plants will bloom throughout the summer, often until the first frost.
For more information on zinnias, contact your county Extension office.
UF/IFAS Sites
UF/IFAS Publications
Also on Gardening Solutions