Shrimp Plant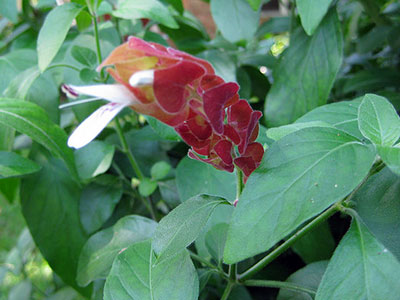 Shrimp plant (Justicia brandegeana) is an attractive tropical perennial and a must-have for a hummingbird garden.
This easy-to-grow plant can reach two to six feet tall, and is easily recognized by the colorful, drooping, shrimp-like bracts it produces. But it's the white flower inside the bracts that attracts both hummingbirds and butterflies. The plant commonly called golden shrimp plant is a different but related species.
The Florida-Friendly shrimp plant can be grown throughout the state and blooms year-round in mild climates. It will be killed back by frost but usually returns in the spring. Shrimp plant can be planted in full sun or part shade, and will grow best in rich organic soil.
New plants may look somewhat twiggy, but with light pruning and a little care will quickly spread to form an attractive clump. Patient gardeners who keep an eye out in the early evenings may be rewarded with a visit from tiny diners.
UF/IFAS Publications
Also on Gardening Solutions