Sasanqua Camellias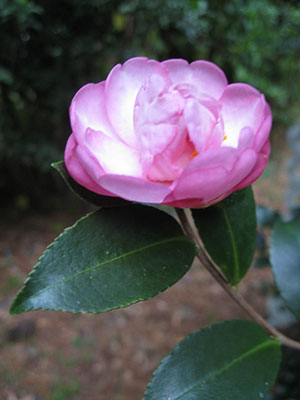 Fall is to sasanqua camellias what springtime is to azaleas—a time to explode with beautiful blooms in gardens throughout the South.
Characteristics
Sasanqua camellias are lovely flowering shrubs that have been heralding the change of seasons for countless generations of Southerners. They bloom in the fall or early winter with a profusion of flowers that are typically white, pink, rose, red, or even variegated. The flowers come in single, semi-double, or double forms.
Sasanqua camellias have smaller flowers and leaves than the other commonly grown camellias, known as Japonica camellias, that bloom in winter and spring.
The flowers are equally as pretty when they begin to fade, since the petals fall to form a carpet of color, much the way that cherry trees do.
Compact forms like 'Sparkling Burgundy' or 'Shishi Gashira' work well as groundcovers or foundation plantings, while taller forms like 'Kanjiro' make stunning specimen plants in the middle of lawns or mixed beds.
Sasanqua camellias can reach anywhere from 4 to 15 feet tall, once mature, and are hardy to USDA zones 7-9.
Also on Gardening Solutions