Red Star Dracaena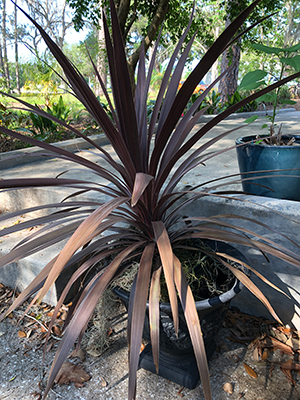 Red star dracaena can dial up the drama in your landscape by adding texture and color. These plants have sword-like, burgundy-red leaves and can thrive when grown in the landscape or in a large container.
As the plant ages it develops more and more of a trunk. Fragrant white flowers bloom infrequently from the top portion of the trunk. Plants are sensitive to frosts in their northern range and will drop their leaves if damaged. These plants are also low water users, a great trait for a low-maintenance plant.
Red star dracaena (Cordyline australis 'Red Star') will grow well in partial to full sun in USDA hardiness zones 9 to 11. These perennial plants have a moderate growth rate and will reach heights of 8 to 10 feet tall.
Native to New Zealand and Australia, red star dracaena is sometimes known as cabbage tree. The fibrous leaves have been used to make paper, twine, baskets, and thatching.
Also on Gardening Solutions