Nasturtiums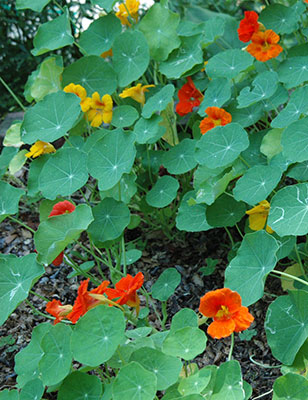 Orginally from South America, nasturtiums are an easy-to-grow annual that pack a double whallop: bright, beautiful flowers and edible leaves, pods, and blooms.
This vining annual can be grown year-round in most of Florida, but will die back to the ground during a freeze. Nasturtium leaves are round and smooth, and its numerous flowers are yellow, orange, or red.
There are many varieties. Trailing forms grow best in hanging baskets or on low trellises, while dwarf forms can be left freestanding.
Nasturtiums are easy to grow. Plant seeds from spring through fall throughout Florida and year-round in South Florida. You will eventually have to stake or trellis the tall types. There are few pests that bother these plants. Pods develop about 4 months after seeding.
You can add the leaves, which have been likened to watercress, to salads, as well as the flowers. The seed pods can be pickled and used as you would capers. If you plan to eat parts of your nasturtiums, avoid using pesticides on or near the plants.
UF/IFAS Publications
Also on Gardening Solutions