Hydrangeas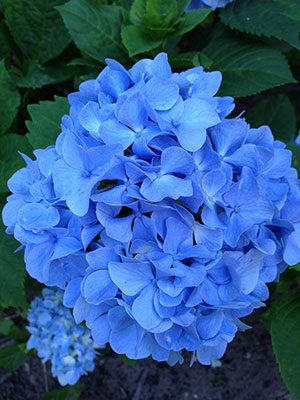 Hydrangea (Hydrangea macrophylla), sometimes called French hydrangea, is a large shrub with beautiful masses of color. They fill gardens with their green, leafy foliage and incredible blooms during the warm months.
The two kinds of hydrangeas offer different looks to a garden. "Mop heads" have big round, dense balls of showy flowers that add a bold statement, whereas "lace caps" are more subtle and elegant.
Hydrangeas need minimal care in well-drained, fertile soil, and are shade lovers. They'll grow to several feet in height and can be three to five feet wide. Newer cultivars that reflower are also available, which provide color again and again.
There is also Hydrangea paniculata, which has smaller leaves and thrives with morning sun. It is the most cold-hardy of the hydrangeas. Panicle hydrangea, as it's sometimes called, can grow quite large and can even be trained as a small tree. Its showy white blossoms last longer longer than French hydrangeas. Soil pH doesn't affect the color of the panicle hydrangea. The 'Limelight' panicle hydrangea has white flowers that turn a bright, light green.
The native oakleaf hydrangea (Hydrangea quercifolia), has deeply lobed leaves resembling large oak leaves. It's an excellent shrub for shady areas, with cone-shaped white flowers that aren't quite as showy and dense as "mop heads."
Changing Hydrangea Color
Hydrangeas that are planted in acidic soils will produce blue flowers, while those planted in alkaline soils will have pink flowers (except cultivars that are genetically bred to be either pink or pure white).
If your hydrangea is producing blue flowers and you want them to be pink, you'll need to incorporate lime into the soil. To turn pink flowers to blue, use aluminum sulfate. Remember that it may take two or three blooming cycles before the flowers reach the desired color and color intensity.
UF/IFAS Publications
Also on Gardening Solutions