Heliconia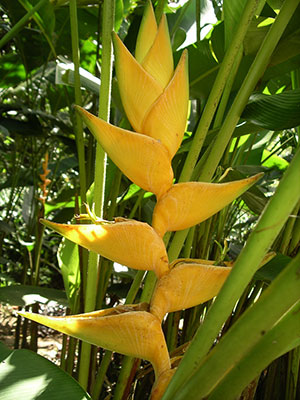 Heliconias are rainforest beauties that range from one-and-a-half feet to almost fifteen feet tall. They can add a tropical feel to Central and South Florida gardens, thanks to their lush foliage and bright, striking flowers (technically, they're bracts).
The blooms are typically red, yellow, or orange spikes, and make wonderful cut flowers. Some look like a stack of lobster claws!
Heliconias should be grown in full sun or part shade in well-drained soil. They're not drought- or salt-tolerant, but will take moist soils. Heliconias can be used as specimen plants or massed together in groups.
Plants will die back after a frost, but new shoots will regenerate once it warms back up. Many species can rapidly take over a garden, so choose carefully.
Also on Gardening Solutions
UF/IFAS Publications
Other Sites