Gaillardia
Also known as blanket flower, Gaillardia pulchella is a sturdy perennial with bright flowers that bloom throughout the summer and into the fall.
A recent discovery suggests that Gaillardia pulchella is not actually native to Florida (Weakley 2020¹), as previously thought. It's native to the southwestern United States, and was likely introduced to the eastern states sometime in the last few centuries.
Still, blanket flower is an excellent nectar and pollen resource. It also remains on our list of Florida-Friendly plants. But for gardeners who prefer native wildflowers, consider lanceleaf blanketflower (Gaillardia aestivalis). This wildflower has much of the charm of G. pulchella and is native to North and Central Florida.
The flowers are single, semi-double, double, and even tubular, and grow on long stems above the long, soft, hairy leaves. Difference in colors and variations in petal shapes are a result of natural hybridization. They are usually reddish purple or orange-red with yellow tips, but can also be solid yellow, orange, or red, and make excellent, long-lasting cut flowers that attract butterflies.Gaillardia re-seeds itself, so don't be surprised if you see it year after year.
Use gaillardia in the landscape as a groundcover, or plant it in containers. It can also be used as an accent or in mass plantings. Gaillardia can be planted anywhere in the state and will tolerate extreme heat, sun, sandy soils, and even salt, making it a great choice for the coastal landscape.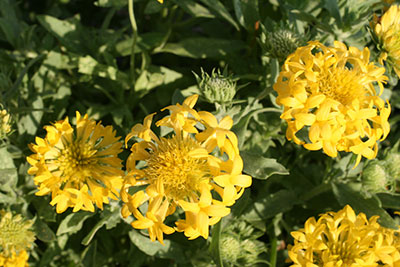 Also on Gardening Solutions
More from UF/IFAS
Citation
1. Weakley, Alan & Poindexter, Derick & Medford, Hannah & Sorrie, Bruce & Mccormick, Carol & Bridges, Edwin & Orzell, Steve & Bradley, Keith & Ballard, Harvey & Burwell, Remington & Lockhart, Samuel & Franck, Alan. (2020). Studies in the vascular flora of the southeastern United States. VI. Journal of the Botanical Research Institute of Texas. 14. 199-239. 10.17348/jbrit.v14.i2.1004.