Delphinium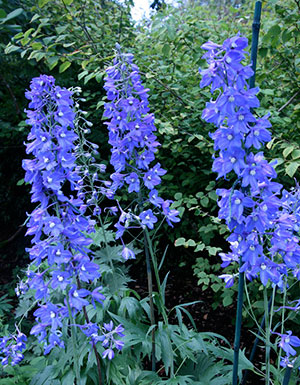 Tired of planting the same cool-season annuals year after year? If you're ready for something different, try delphinium.
Also called larkspur, delphinium is technically a perennial, but is grown as a winter annual in Florida.
Starting in March, delphinium produces spikes of blossoms that are great for cutting and using in arrangements. What makes this plant so exceptional is the bloom color is a true blue, which is rare in the plant kingdom. However, the color of the bloom is not limited to blue, other colors such as yellow, pink, and white also occur. Delphinium also has delicate, lacy foliage that can add a soft background to garden beds or container plantings. The plants can grow 2 to 6 feet tall, depending on the variety.
Delphinium can be started by seed, but you should be able to find transplants at your local garden center. Plant them in a spot that receives full sun, and be sure to water and fertilize them. They prefer cool weather, with the seeds germinating in the winter and blooming in early spring. Don't worry about protecting delphinium from cold, unless temperatures drop into the mid-20s. Once temperatures rise in summer, the plants will fade and you'll need to remove them.
It should be noted that delphiniums are poisonous to humans and some animals if eaten, so be sure to keep small children or the family pet out of the flower bed.
Also on Gardening Solutions
Other Sites