Coral Honeysuckle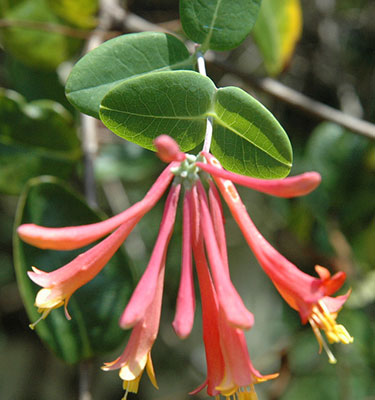 Need to jazz up a fence or trellis? This native honeysuckle vine can be grown throughout Florida and features scarlet flowers that bloom for months.
Characteristics
Coral honeysuckle, also known as trumpet honeysuckle, is known for the clusters of bright red tubular flowers that it produces throughout spring and summer. There are also cultivars with yellow flowers. The flowers attract hummingbirds and butterflies and then mature into berries that draw songbirds in late summer and fall.
The medium-sized leaves are also attractive—glossy green on top and silvery green underneath—and can provide a nice backdrop for other landscape plants. In Central and South Florida, the leaves are evergreen. In North Florida, the leaves sometimes drop in colder winters but come back in the spring.
Since it's a vine, coral honeysuckle works great on trellises and fences, though it may need a little help getting started. It can also be planted as a ground cover and may be used to help control erosion on steep slopes.
Coral honeysuckle should not to be confused with the invasive Japanese honeysuckle (L. japonica) that typically has white or yellow flowers.
Planting and Care
Coral honeysuckle tolerates most soil types and conditions, but performs best in slightly acidic soil. And although it will grow in partial shade, it blooms best if given full sun.
It is generally a low-maintenance plant once it's established, since it is drought tolerant and does not attract any particular pests. It may require occasionally pruning since individual stems can grow up to 15 feet in length.
Gardeners interested in this plant can find it at native plant nurseries and many conventional nurseries, or they can propagate new plants from cuttings.
For more information on coral honeysuckle, contact your county Extension office.
UF/IFAS Publications