Chrysanthemums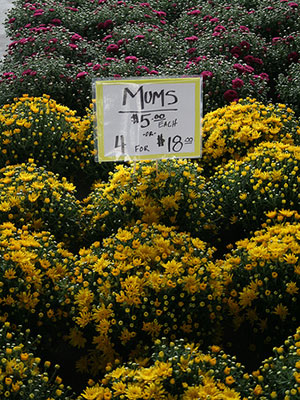 We don't get much in the way of traditional fall displays from changing of the leaves here in Florida, so how can you bring those autumnal colors into your fall landscape? Mum's the word, chrysanthemums that is.
Often shortened to mums, chrysanthemums (Chrysanthemum x morifolium) are popular and colorful perennials that come in many colors and a variety of sizes.
Characteristics
Mums are easy-to-grow, herbaceous perennials that can live for years and continue to bloom. Generally these plants grow to be about 6 inches tall although they can reach 2 feet in height when flowering.
Mums form rounded mounds that, when in bloom, are just bursting with color. Not only do mums come in an array of colors, they also come in a variety of flower forms. The single flower form looks much like a daisy, while the pompon form has more of a globular shape. There is even a spoon flower form where the flower petals are tubular and flatten out at the tips, resembling many little spoons.
Mums are great for mass plantings and cut flowers. As a bonus, the flowers attract butterflies.
Planting and Care
When buying potted chrysanthemums, shop for "garden mums," which are hardier than those labeled as "florist" mums. Look for healthy, well-shaped plants with many flower buds. The more buds you see on your plant the more blooms you will enjoy in your garden. Garden mums are cold hardy and prefer full sun, but can also thrive with just morning or afternoon sun. Mums grown in containers are a great way to brighten up a porch, patio, or front door.
Plant your garden mums in soil that's well drained and has been enriched with plenty of organic matter. Water as needed and apply a slow-release fertilizer. To maintain a compact, well-branched form, lightly prune your mums from late spring through mid-August if they grow more than 6 inches tall. Dead heading will encourage new blooms and keep the plant looking attractive and healthy.  
Mums naturally set buds and flower fall through spring, when the days are short. But garden mums can be purchased blooming at any time. You can even spread the "mum love" around by propagating your plants, either by division or cuttings.
UF/IFAS Sites
UF/IFAS Publications
Also on Gardening Solutions