Butterfly Gingers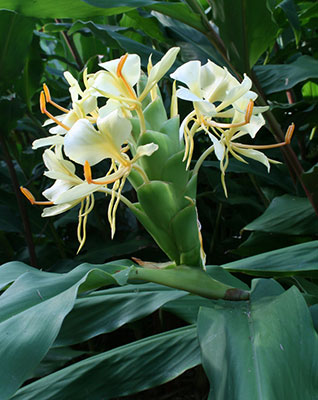 Gardeners love butterfly gingers for their showy floral displays that last from late spring through early fall.
The waxy flowers come in white, pink, orange, and red tones and appear on flower stalks that rise above the foliage.
The fragrant blooms can also be cut and brought indoors to enjoy. Even if you don't cut the flowers for arrangements, it's helpful to remove old flower stalks to encourage new growth.
These tropical perennials will die to the ground in North Florida, but they'll stay evergreen in South Florida. Butterfly gingers perform best when planted in rich, organic soil. Depending on the variety, they typically grow 4 to 8 feet tall and 2 to 4 feet wide. Once established, these Florida-Friendly plants need little care aside from watering.
UF/IFAS Publications
Also on Gardening Solutions