Bird of Paradise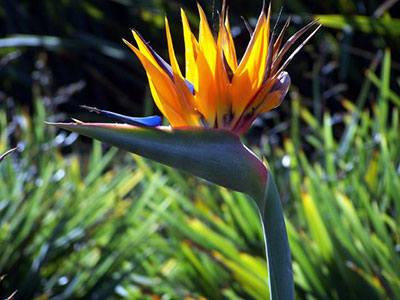 Bird of paradise (Strelitzia reginae) is a striking tropical plant known for its eye-catching orange and blue flowers.
The uniquely shaped flowers are said to look like a bird in flight, and make long-lasting cut flowers. The banana-like, evergreen leaves create a lush backdrop.
Look for a sunny or partly sunny location where you can grow your bird of paradise. It will need regular watering and fertilizing to grow and flower at its best. Over time, the plant can form a three- to five-foot tall clump.
This tropical beauty doesn't like cold weather, so cover it during hard freezes or grow it in a pot that can be moved when cold weather strikes.
A white-flowering form is also available, though it can reach 15 to 30 feet tall.
UF/IFAS Publications
Also on Gardening Solutions