Beach Sunflower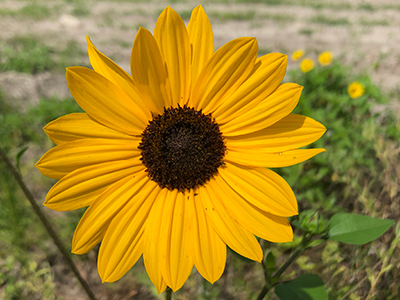 Beach sunflower is a butterfly-attracting Florida native that's perfect for hot, dry sites, including coastal areas. Many gardeners like to use it as a colorful and drought-resistant groundcover.
Fun fact: the flower heads always follow the sun throughout the day.
Characteristics
Beach sunflower (Helianthus debilis) is a spreading perennial plant that also reseeds, creating a larger clump over time. It blooms almost year-round with two-inch, daisy- or sunflower-like flowers that have yellow petals and brown centers. Because of their year-round flowering, these plants can be especially good for brightening up the landscape during the warm and cool temperature extremes during the year. It should be noted that in areas with freezing temperatures beach sunflower is an annual, but it will generally reseed itself.
Another feature of beach sunflower is its ability to attract wildlife; several species of butterflies appreciate the flowers and the fruits attract birds. Additionally, the flowers can be cut off and displayed very nicely indoors.
There are actually three subspecies of H. debilis that can be found in Florida. Helianthus debilis subsp. cucumerifolius (cucumberleaf dune sunflower) is found on coastal dunes scattered along the northern counties of the Gulf Coast south to DeSoto county. Flower heads of this subspecies generally rise 7 to 10 inches off the ground. Helianthus debilis subsp. debilis (east coast dune sunflower) is found growing on coastal dunes along the Atlantic coast. Flower heads of this subspecies rise up about 4 to 10 inches above the ground. Helianthus debilis subsp. vestitus (west coast dune sunflower) grows on coastal dunes along the Gulf Coast, from Pinellas County south to Lee County. Flowers of this subspecies rise up between 2 to 6 inches.
Care should be taken to select local subspecies, also called ecotypes. For example, varieties found on the west coast should not be planted on the east coast and vice versa. This is because the non-local ecotype can hybridize with the local subspecies.
Planting and Care
Start your patch of beach sunflower either from seeds or cuttings, taking care to select a full sun location, ideally with sandy or well-drained soil. For those in coastal areas this plant is excellent because of its tolerance for salts in the soil and its ability to handle high levels of salt spray.
Once established, beach sunflower is drought tolerant and can get by with little to no irrigation. Over-irrigation can actually slow growth and cause your plant to decline. If they are over-irrigated, these plants can get a defoliating disease called sunflower rust. With occasional irrigation, beach sunflower plants will spread and quickly fill in the area.
Beach sunflower can be grown throughout most of the state; it works well as a groundcover and is great for borders, edging, mass plantings, and even cascading down a wall. Growing to a height and spread of 2 to 4 feet, this plant can quickly cover its growing area.
Although not required, one or two applications of fertilizer during the year encourages the best growth of these plants, but no more — they don't tolerate over-fertilizing well.
UF/IFAS Publications
Also on Gardening Solutions