Bamboo Muhly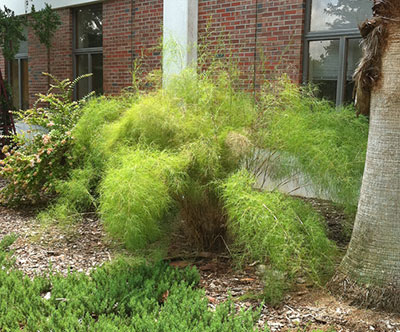 Bamboo muhly blends the look of bamboo with the easy versatility of an ornamental grass. With its billowy green foliage, bamboo muhly can anchor a perennial bed, serve as a screen, or give height to a container planting.
Characteristics
Bamboo muhly earned its common name because of its resemblance to bamboo. Its tall, semi-woody stems are covered with lacy green foliage that dances gracefully in the slightest breeze. Its scientific name is Muhlenbergia dumosa.
The bright green foliage is particularly beautiful when it is backlit by the late afternoon sun. In fall or winter, the plant may turn a tannish color and produce tiny, inconspicuous flowers.
Bamboo muhly is quite large compared to other grasses in the Muhlenbergia genus like Florida's native pink muhly grass (M. capillaris). The upright or arching stems can reach four to six feet tall, and the plant can reach up to five feet wide as the clump slowly spreads.
Gardeners can use this ornamental grass for a delicate, bamboo-like effect in their gardens without having to worry that the plant will take over surrounding areas.
Bamboo muhly is native to Arizona and northwestern Mexico and is somewhat drought tolerant, once the plant is established.
Planting and Care
Bamboo muhly will grow best if planted in full sun with a well-drained soil. It will tolerate both alkaline and acid soils.
Water bamboo muhly regularly until it is established, and as needed after that. It will benefit from applications of a slow-release, balanced fertilizer a few times per year.
It is usually evergreen, though the foliage will likely die back if the plant is exposed to freezing temperatures. If this happens, prune back the brown foliage just before growth starts in the spring. Older canes of bamboo muhly can also be removed periodically to give the plant a fresh look and to encourage new growth.
If clumps get too large, they can be dug up and divided to make new plants.
For more information on bamboo muhly and other ornamental grasses, contact your county Extension office.
UF/IFAS Sites
UF/IFAS Publications
Also on Gardening Solutions