Amaryllis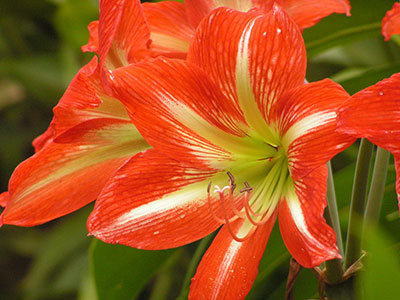 Amaryllis is a popular holiday gift plant because it can be forced to produce stunning flowers during the holiday season. Once the bloom period is over, it can be left in its container or planted outdoors in the garden.
Characteristics
Amaryllis is a subtropical bulb that belongs to the Amaryllidaceae family and is native to South Africa. It is grown as a potted plant in most parts of the United States but can also be grown outdoors year-round in Florida.
The trumpet-shaped blooms grow up to six inches across, and several flowers often appear in succession. Flower color ranges from reds, oranges and pinks to pure white. Still others are spectacularly striped and multi-colored. When planted outdoors in Florida, amaryllis plants typically bloom in the spring before the leaves develop.
The amaryllis plant has glossy, strap-like leaves that are about 1.5 inches across and 18 inches long. The leaves persist for much of the year, though they may fade in late summer and may be killed by frost in northern counties.
Planting and Care
If you wish to give an amaryllis as a gift plant, you can purchase pre-potted bulbs at many garden centers or you can buy bulbs separately and plant them in a pot that you select. Once planted and watered, bulbs should bloom within six or eight weeks.
When purchasing bulbs, keep in mind that the larger the bulb, the larger the flowers. Also remember that flower stalks can be top heavy, so make sure the container you select is heavy enough to counter balance the weight or add a layer of gravel to the bottom of the pot.
Plant the bulb in the center of the pot in well-drained potting media, taking care to press firmly around the bulb so that it is well seated. Encourage early flowering by keeping at least one half to two-thirds of the bulb above the soil line.
Water thoroughly and place the pot in a cool, bright spot. No further watering should be necessary until the bulb sprouts. When it does sprout, move the pot to a spot with direct sunlight and keep the soil moist but not over-watered. Fertilizer is not necessary at this point. Once the bloom opens, remove the plant from sunlight to prolong the life of the flowers.
When the flowers fade, take your plant outdoors and fertilize to encourage the growth of new leaves. This will help the plant store energy in the bulb so that it can flower in following years. Bulbs can be left in their original containers for two or more years before repotting is necessary.
Another option is to transplant the bulb to the garden. Amaryllis bulbs can be planted outdoors between September and January in Florida. They will perform best if planted in a spot with partial sun and well-drained soil. In heavy shade, they will be less vigorous and will flower poorly.
Amaryllis, like many other types of garden lilies grown in Florida, contains various toxic alkaloids and can cause poisoning if consumed.
For more information on amaryllis, contact your county Extension office.
Also on Gardening Solutions
More from UF/IFAS