Swiss Chard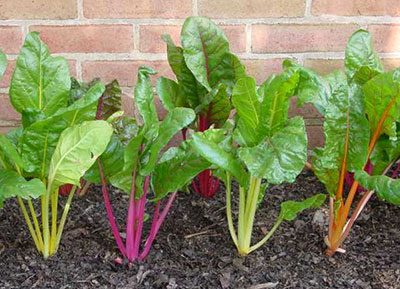 Swiss chard is related to the beet, but instead of eating the fleshy roots, we eat the leaves and stems. It's easy to grow, and because of its colorful stalks, Swiss chard is often grown as a border plant as well as a vegetable. While it's usually grown in Florida as a cool season vegetable, it handles heat as well.
Chard has large, glossy, dark green or red leaves that are borne on white, red, or bright yellow leafstalks. Plant seeds directly in the garden or transplant from small containers. Favorite varieties are `Bright Lights' and `Fordhook Giant', which are green-leaved, and `Rhubarb', which has red leaves.
Prepare Swiss chard as you would other leafy greens. Sometimes, the fleshy white leaf midribs are separated from the leaf blade and prepared much like celery or asparagus.
UF/IFAS Sites
UF/IFAS Publications
Also on Gardening Solutions