Swiss Chard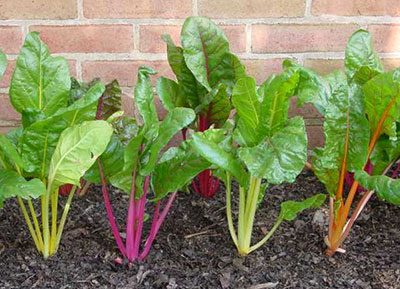 Swiss chard is a favorite with Florida gardeners because it is more heat tolerant than spinach or lettuce. Its mild flavor and tender leaves earned it the name "spinach beet" and make it a good spinach alternative for warmer months. It is easy to grow and, because of its colorful stalks, chard is often grown as an ornamental as well as a vegetable.
Characteristics
Swiss chard (Beta vulgaris) is technically the same species as beet, and closely related to spinach. Rather than a round root, however, chard has been bred for its large, glossy leaves. It is sometimes called a "beet without a bottom." Foodscaping gardeners find the bright foliage and colorful stems so attractive that they include Swiss chard in front-yard plantings. As an ornamental, chard works nicely planted with flowers in landscape beds or containers.
Chard leaves can be dark green or red with midribs of white, red, green, orange, or bright yellow. Mixes of multiple chard varieties are often so colorful that they are marketed as "rainbow chard." For Florida gardens we recommend the varieties 'Bright Lights', 'Bright Yellow', 'Fordhook Giant', 'Lucullus', and 'Red Ruby'.
Planting and Care
Like most greens, chard requires at least six hours of direct sunlight. Space chard plants 6-12 inches apart in rows or along the borders of other plantings.
You can directly seed or transplant chard into your garden during all but the hottest months of the year. In North and Central Florida, plant chard from September to May. In South Florida the season is only slightly shorter: September to March.
Both Swiss chard's leaves and stems are edible. Harvest leaves while they are young and tender. Chard is ready to harvest 40-60 days after seeding, or once leaves reach 8-10 inches long. Pick the outer leaves a few at a time for a long, continuous harvest.
Prepare chard as you would other leafy greens. Sometimes, the fleshy white leaf midribs are separated from the leaf blade and prepared like celery or asparagus. Chard is a favorite green for children, too, who enjoy its colorful midribs and comparably tender and mild leaves.
Unfortunately chard is very susceptible to root-knot nematodes. If your plants are growing slowly, check the roots for damage. In areas where the soil is heavily infested it may be best to plant chard in a planter or a grow bucket. Other than these soil-born pests, chard suffers from very few insect problems or diseases, even those common to its near relatives.
Also on Gardening Solutions
More from UF/IFAS