Pumpkins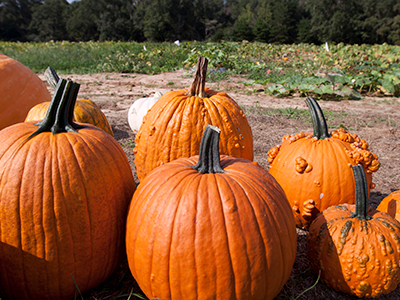 While pumpkins are native to North America, the tradition of carving jack-o-lanterns for Halloween came from Irish and English immigrants. These immigrants used turnips and beets in England and Ireland to carve their festive decorations. Pumpkins came to replace beets and turnips as the pumpkins were better suited for carving and holding a light inside.
A number of varieties of pumpkin can be grown in Florida, from large carving pumpkins, to the smaller pumpkins preferred for cooking. 'Howden' and 'Jackpot' are the best large pumpkin varieties for growers in Florida. Some other large variety pumpkins that grow well in Florida are 'Big Max', 'Big Moon', 'Jack O'Lantern', 'Spirit', and 'Funny Face'. The 'Funny Face' variety of pumpkin is well-suited to small gardens because of its semi-bush plants. Pumpkins take about 4 months to grow so in order to have pumpkins ready to carve for Halloween, be sure to plant them by early July.
As for smaller pumpkins, the Seminole pumpkin is perfect for Florida gardens; this variety produces smaller sweet pumpkins that are relatively pest- and disease-free. The flesh of the Seminole pumpkin tastes like a sweeter butternut squash. The vines can grow up to 25 feet, so be sure to leave them room to spread when planting. The pumpkins can be harvested in 120 – 150 days and stored in a cool, dry place for up to a year.
Pumpkins will do best when planted in late March and early April and will mature in about 100 days depending on the variety. Those pumpkins planted between late April and July produce smaller pumpkins and are affected by virus, fungal disease, and fruit-set problems.
Carving versus Cooking Pumpkins
Pumpkins you find in the store for carving are generally large and are varieties that have been bred for their appearance and not for their taste. While these pumpkins are ideal for carving, they may not be the best for cooking with. Smaller pumpkins, called pie or sugar pumpkins, are ideal for cooking and baking. These smaller pumpkins are usually around 6 or 7 lbs and have a delicious pulp which can be prepared and used in a number of ways.
Preserving your carved pumpkin
While a number of suggestions on ways to preserve your jack-o-lantern can be found, the climate in Florida is not conducive to preserving a carved pumpkin for very long.
If you are interested in decorating with pumpkins for the month of October, or longer, consider alternatives to pumpkin carving. For example, you can use paints, buttons, fabric, or jewels to decorate your pumpkins. Or you can select pumpkins of different shapes, sizes, and colors and allow the unadorned pumpkins to inspire your fall decorating. Decorative gourds can also be used in fall decorating.
Pumpkin Seeds
One of the perks of pumpkin carving is getting the seeds which can be used in a number of ways. You can roast or dry pumpkin seeds. While roasted pumpkin seeds are a healthy fall snack, the dried seeds have decorative uses as well and can be stored and used throughout the year. Dried pumpkin seeds give potpourri or flower arrangements a fall flair, or add color and texture to art and craft projects.
To roast pumpkin seeds, toss them in oil and/or salt and place them on a sheet in an oven preheated to 250o F for 10 to 15 minutes. Try using other spices for roasting; cinnamon and sugar can be used to turn your pumpkin seeds into a sweet treat or garlic or chili powder create a more savory taste.
To dry your pumpkin seeds, wash the seeds to remove the pumpkin fibers from the seeds. The seeds can then be dried in the sun, an electric dehydrator for 1 to 2 hours at 115-120o F, or an oven at a low temperature for 3 to 4 hours.
Cooking with pumpkin
The pulp of a pumpkin is what is used in cooking and baking. While pumpkins are harvested in the fall, with a little preparation you can preserve your pumpkin pulp for use year-round.
Freezing
The easiest way to preserve your pumpkin is by storing it in the freezer.  Cooked pumpkin stored in the freezer will provide you with the best quality pumpkin to use in your kitchen year-round. Pumpkins can be cooked a number of ways including boiling, steaming,  or baking. Before cooking, pumpkins should be washed and cut it into cooking-sized pieces. Cook you pumpkin until the pulp is soft, then remove the pulp from the rind and mash the pumpkin pulp. Allow your mashed pumpkin pulp to cool, pack it into a rigid container leaving about a ½ inch of room at the top, and freeze.
Other ways to enjoy pumpkin
Pumpkin pulp is often seen as an ingredient in fall baking and cooking recipes; however, pumpkin can be prepared in ways other than the traditional stove-top or oven methods. One way you can add pumpkin to your meal is by using it in salsas, chutneys, and relishes. Pumpkin can also make delicious dried vegetable leather. To make pumpkin leather, puree cooked pumpkin and strain it, add honey and spices (like cinnamon or nutmeg), and dry it on a home food dehydrator tray.
Canning
For safety reasons, it is recommended that pumpkin only be canned cubed using pressure canning methods. On average 16 pounds is needed per canner load of 7 quarts, while an average of 10 pounds is need per canner load of 9 pints, or an average of 2 ¼ pounds per quart.
Safety
Since pumpkins are a low acid vegetable, special care should be taken while preserving the pulp. Make sure you keep your work space, tools, and hands clean at all times while you work. Don't allow your pumpkin to sit out at room temperature for more than 2 hours once you have cut it open and started preparing the pulp.
Also on Gardening Solutions
More from UF/IFAS