Planting a Moneywise Garden
Growing your own fruits, flowers, fungi, or vegetables can be cheaper than buying them in the grocery store, but only if you plan carefully. The trick to saving money is limiting the costs while maximizing yield. Remember that gardening tends to become more economical after you've been at it for a couple of years, since a lot of the expense is in the initial set-up. Once you've gotten started, follow these steps to continue on your money-saving path.
Choose Productive Plants
If you want a productive garden, do some research to find out what grows well in your area.
Start with good seed. Productive plants start with the right seed. Select varieties that have been tested and found to be adapted to Florida conditions. Check packet labels for varieties that are resistant to pests, tolerant of adverse weather, and with seeds that have been treated for protection from diseases.
Find plants that have a good return on investment. Choose plants that may not have a good yield in your garden and you'll probably end up spending more money or just breaking even. Climbing peas, tomatoes, beans, and squash tend to provide more produce than their bush equivalents; they're also ideal for gardeners with limited space. And then there are plants that are notorious for their big yields, like zucchini. Trade excess with neighbors and friends for vegetables you didn't grow.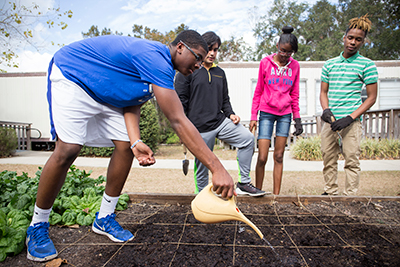 Find a Friend
Combine effort, purchasing power, and harvests by sharing gardening with others!
Find a gardening buddy. Not only can you share ideas with a gardening buddy, but you can also split costs, making it cheaper for both of you.
When you buy a packet of seeds, you generally receive more than you need. Most packets contain forty to one hundred seeds, and very few gardeners need the whole packet that season. It can be fun (and frugal) to split the costs with others. You can split the packet with a friend or trade seeds for a variety or type of vegetable that you didn't buy. 
Buy in bulk. Sharing with a gardening partner will also allow you to purchase certain inputs in bulk. Potting soil and compost can be much cheaper if purchased this way and shared with a friend or two. 
Borrow rather than buy. A gardening buddy is also a great person to share tools with. Check with your neighbors to see if they might have equipment you can borrow. Some communities even offer tool sharing programs. Remember to return items in good condition. 
Shop Frugally
Of course, an important time to save money is when you're actually spending it.
Purchase bareroot plants.  Bareroot plants are dormant woody plants that have had most of the soil around their roots removed. Because they cost less to ship, bareroot plants are often sold for significantly cheaper prices than similar plants grown in containers. Check with your county Extension office for recommended varieties and suppliers. 
Buy quality tools. Good tools can make your gardening experience much more enjoyable. Remember: thrift and frugality are about obtaining value for your dollar—not just paying the cheapest price. Gardening is definitely easier and more enjoyable if you have the right tool for the right job. 
Shop plant sales. Sales hosted by Master Gardeners, gardening clubs, and botanical gardens can offer great deals. Contact your county Extension office for information about plant sales in your area.
Forage for free plants. Check your local newspaper and online classifieds for free plant listings. It's not unusual to find plants being given away or sold cheaply that you just need to pick up. You can also obtain passalong plants from gardening friends. These are plants that may not be easily found in garden stores, catalogs, or horticultural centers. Instead, they are passed from one gardening enthusiast to another. Look for others that share your gardening interests and see if you can create a passalong opportunity.
Find free fertilizer. Call local farms to see if they might allow you pick up some manure. Note that you'll need to compost the manure before using it in your garden.
Recycle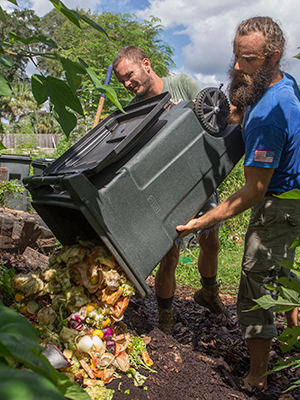 Recycling is not just environmentally friendly, it's also economical.
Re-use. Many of the expenses that gardeners make for containers and equipment can be reduced by using items you already have at home. Margarine tubs, cottage cheese containers, and egg cartons are fantastic for seed starting. Old gardening boots, wheelbarrows, and toolboxes can make whimsical substitutes for expensive outdoor containers. Window frames can be converted into cold frames, and plastic milk jugs and soda bottles can be used to make a mini greenhouses.
Start a compost pile. Composting is both an easy way to reduce the amount of waste you send to the landfill and a cheap way to get nutrients for your garden. See "Organic Matter" for more information.
Community-Supported Agriculture
If you're not sure you want to invest in a vegetable garden yet, then community-supported agriculture (CSA) may be for you. Many farms offer produce subscriptions, where buyers receive a weekly or monthly basket of produce, flowers, fruits, eggs, milk, meats, or some combination of these. By making a financial commitment to a farm, you can become a member of a CSA. Most CSAs prefer that members pay for the season up-front, but some farmers will accept weekly or monthly payments. Some CSAs also require that members work a few hours on the farm during the growing season.