Okra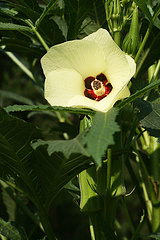 A staple of Southern cuisine, okra originated in Africa and is related to the hibiscus (which accounts for its beautiful flowers). It's often used as a thickener in soups or gumbos, or sometimes just served up fried.
Well suited for Florida's hot, humid summers, this warm season vegetable should be planted when evening temperatures are in the mid fifties, in a sunny location with well-drained soil.
You can start harvesting about 60 days after planting, once pods reach about two to three inches in length. It's a good idea to harvest early and often, since pods will be too tough to eat if they get too old. When harvesting, wear gloves to protect yourself from the plant's prickly hairs and use shears to cut through its fibrous stems.
Locally available varieties of okra include 'Annie Oakley II', 'Cajun Delight', 'Emerald', 'Clemson Spineless', and 'North and South'. Okra has become increasingly valued as an edible ornamental. In addition to lovely flowers, varieties like 'Alabama Red' and 'Burgundy' also offer bold, red foliage.
Also on Gardening Solutions
UF/IFAS Sites
UF/IFAS Publications
Other Sites