Red Leafy Vegetables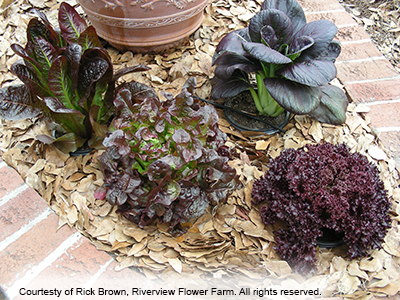 For the motivated gardener, growing a rainbow of edibles is possible and fun! Red tomatoes, orange carrots, yellow squash, green kale, blueberries, and purple eggplant are some of the plants that come to mind when people are asked to name colorful fruits and vegetables. But now you can also grow leafy vegetables in an array of colors, thanks to tons of new and fun varieties.
Ever wonder what makes normally green-leaved vegetables more red or purple in color? It's all thanks to the pigment anthocyanin, which is also responsible for the red color in autumn leaves. Research into the health benefits is ongoing, but it has been suggested that anthocyanins could have anti-inflammatory and anti-carcinogenic properties; they may help with cardiovascular disease prevention and obesity control, and may even contain properties that help alleviate diabetes.
Gardeners looking to add a little non-traditional color to the garden can start with red-leaf lettuces. The leaves of these varieties start out green and fade to a lovely bronze-red color. Try 'Red Sails' or red romaine lettuce to brighten up your vegetable garden and salads.
Red cabbage is another vegetable that can add a little variety to your cooking and growing. 'Salad Delight', 'Omero', 'Deadon', and 'Red Express' yield lovely red to purple heads of cabbage. Cooking turns these cabbages to a faded purple hue; if you want to preserve that vivid color, use them in an uncooked dish like cole slaw.
Swiss chard offers by far the widest choice of colors—not only red, but yellow and orange as well. Cultivars like 'Red Magic'', and 'Ruby Red' supply gardeners with green leaves and red stalks; the cultivar 'Peppermint' has unusual red and white stalks. Or get really colorful with 'Bright Lights', 'Five Color Silverbeet', or 'Neon Lights'—these seed mixes produce a rainbow of reds, pinks, yellows, and oranges. Swiss chard is an excellent choice for sautées, soups, and stews.
Kale has been all the rage recently, so why not bring something new to the kale conversation by changing the hue? Ornamental varieties like 'Nagoya Rose' or 'Redbor' offer up a little something different; plus, you can use them to spruce up a salad or make crunchy kale chips.
Rounding out the leafy red vegetables is Japanese giant red mustard. With maroon and chartreuse leaves, and a spicy kick, this mustard variety makes for a tasty and interesting change to your favorite greens recipe.
So why not try something new in your garden and swap out one or more of your traditional green veggies with something more colorful?
Also on Gardening Solutions
UF/IFAS Publications