Jicama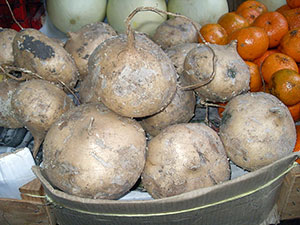 Jicama is a crunchy vegetable that's high in vitamin C and is used in Mexican and Latin American recipes.
The large, edible roots have a brown outer skin that looks similar to turnips. Inside, they have firm, potato-like flesh that has a mild and slightly sweet flavor.
Jicama (Pachyrhizus erosus L.) can be grown throughout Florida. If you start your plants from seed, they'll need five to nine months of warm weather to produce roots that are big enough to eat. Plants started from small roots may be ready to harvest within three months.
Give your jicama plant plenty of room, since each plant can produce vines up to 20 feet long. And be sure to eat only the roots, since all other parts of the plant are poisonous.
UF/IFAS Publications
Other Sites