Jerusalem Artichoke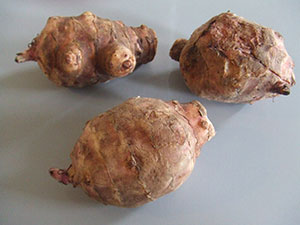 Jerusalem artichoke is a mild tasting root vegetable that's native to parts of North Florida.
The plant produces pretty yellow flowers and is a member of the sunflower family. It's sometimes called sunchoke.
Plant your Jerusalem artichokes in early spring, either as whole tubers or as seed pieces. The plants can reach six to ten feet tall and will need to grow for at least four months before they're ready to harvest.
Smaller tubers can be sliced and used in salads, adding a similar flavor and crunch to water chestnuts, while larger tubers can be cooked and eaten like potatoes.
Jerusalem artichokes (Helianthus tuberosus L.) actually have fewer calories than potatoes. They also store their carbohydrates as inulin rather than starch, giving them a lower glycemic index.
Also on Gardening Solutions
More from UF/IFAS