Wendy's Wanderings
January 13, 2022
Strawberry Season
It's January and you know what that means? Yes, we have a new year, make new year's resolutions, and enjoy winter blooms like beautiful camellias. But another truly Florida experience happens in winter, and that is the abundance of Florida strawberries.
What is a more rural Florida experience than pulling up to a roadside produce stand that has a giant sign in big block letters reading, "Plant City Strawberries"? You are just about guaranteed a quart of the freshest, plumpest, juiciest berries available. Frankly, I think we Floridians are slightly spoiled by the wealth of fresh local strawberries in our markets during the winter months. Remember that our northern neighbors are shoveling snow and reading seed catalogs in the dark, while we are enjoying abundant sunshine and all the fresh strawberries we care to have.
They don't have to be from Plant City to be delicious. Florida strawberries are grown throughout the state, even as far south as Miami-Dade County (ask me about the Knaus berry farm sometime). Florida is the second largest strawberry producing region in the U.S., with 8-10,000 acres in production across the state. Plant City in Hillsborough County is even known as the Winter Strawberry Capital of the World.
Strawberries are harvested from Thanksgiving to Easter. March is the month when they are the most affordable. Plant breeders at the UF/IFAS Gulf Coast Research and Education Center (GCREC) in Balm have been working on many different characteristics of strawberries, breeding varieties that are very successful in Florida. Traits such as flavor, shelf life, fruit size, high-marketable yields, and color have been selected for over the years.
Dr. Lance Whitaker, associate professor at UF/IFAS GCREC, has been working on a special berry to keep growers competitive in the market. It is a white strawberry, currently known by its development name, FL 16.78-109. White strawberries occur in nature and breeders have been working with the color trait for some time. Dr. Whitaker began with seeds from Japan in 2012 and has been making crosses with seedlings having fruit colors ranging from blush pink to light red.
He says, "Commercial trials have been promising so far. Pickers can tell when the fruit is ripe when a slight pink blush develops on the side of the fruit that is most exposed to the sun, and when most of the seeds turn red. By 2022, these new white strawberries, also called pineberries, should be available in U.S. grocery stores."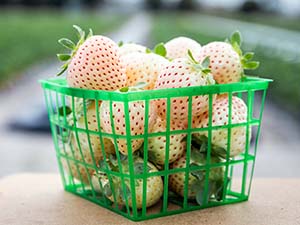 There are already white strawberries in limited production and imagine my delight when I found them in my local grocery store yesterday. They are being marketed by one of our big strawberry packers under the "Pink-a-Boo" brand and are available in a single-layer clamshell, about 10 ounces. In my mind, a perfect single serving.
Enjoy your "Fresh from Florida" strawberries in any color you can this winter; it is one of the perks of living in Florida. And if you're not sure if it's me at the Plant City Strawberry Festival (March 3-13), it is — I am the lady holding a giant strawberry shortcake.
-- Wendy Wilber
---