Wendy's Wanderings
April 8, 2020
Garden Retreat
When I am stressed and can't shake the worries of the world, I head to the garden, or my landscape. The urge to work the soil, to plant and tend is not something I want to do, it is simply what I must do. Based on the requests of Floridians contacting their Extension offices for gardening advice, I am not the only one who is being drawn to garden. In fact, information requests from the UF/IFAS publication database EDIS doubled in the month of March compared to requests from March of 2019.
I never thought I would see a day where folks would be lined up at the grocery store (spaced 6 feet apart) to search for food that may or may not be in stock. Although there is plenty of "Fresh from Florida" food, the coronavirus pandemic has brought up a sense of food insecurity for many. These isolating times have people thinking about a better way. Can they grow their own food in their yards? Is it time for a victory garden to fill in the gaps to save a masked trip to the store? The reality is you can grow food in your yard, it can be enough to fill in the gaps and hopefully skip a shopping trip. The benefits will not only be fresh produce; the garden also brings you a sense of self sufficiency, and much needed stress relief. We know that gardening has therapeutic effects such as reduction of blood pressure and incidents of heart disease.
If you envision 40-foot rows of tomatoes and corn, please think again. Today's growing techniques are not necessarily like your grandmother's gardening. Raised bed gardens are usually 4 feet by 4 feet or 4 feet by 8 feet and can fit neatly into most landscapes. These raised beds can be very productive. Many of Florida's gardeners have also had great success with large containers planted with leafy vegetables or squash. If you're the kind of gardener that forgets to water think about using grow buckets or self-watering containers like Earthboxes™. Hydroponics can also fit well in to the home garden.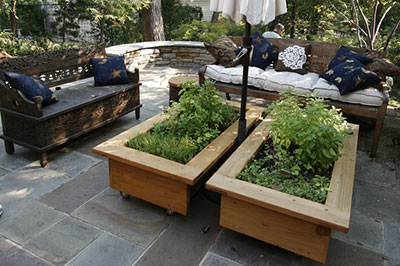 You don't have to spend a lot of money to grow your own produce. What you do need is to be informed and realistic. Use the Florida Vegetable Gardening Guide to help with putting the garden in the right spot, preparing the soil, and get the timing right for what vegetables you want to grow. Many of our Extension offices are offering online classes, Facebook live tutorials, and videos to support your gardening efforts. Check this list to get connected with your local Extension office and check our website's calendar for upcoming online trainings. Planting a garden or growing just a few containers of your favorite fresh vegetables and herbs is the perfect activity while you are "safe at home," and the rewards will be much more than produce.
-- Wendy Wilber