Accessible Gardens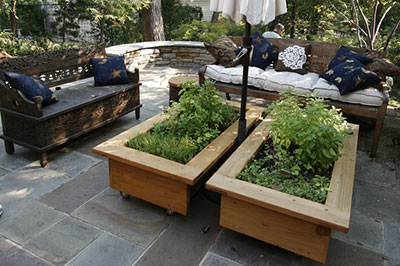 Accessible gardens are designed to eliminate barriers, allowing people of all ages and abilities to come together to garden. They can help senior gardeners as well as younger people with limited mobility.
The pathways are wide enough for a wheelchair and often paved or made of crushed stone. Ramps with railings also make it easier for people to get around.
Many accessible gardens use raised beds or even table planters that are supported on legs, allowing people in wheelchairs to easily reach the plants. They also provide plenty of seating and shade canopies to create rest areas.
Creating a Raised Garden
You can construct a frame for your raised bed using bricks, concrete blocks, recycled plastic, or wood. You don't need to be handy, since many simple-to-use kits are available.
Most beds are three to four feet wide, but they can range from a few inches to a couple of feet deep. Fill them with your own custom soil mix to provide good growing conditions and help maximize your harvest.
If you want to raise your garden a little higher or provide  room for a chair under the work surface, try a table garden, a raised-bed garden that places the soil level at tabletop height. Just be sure to use drought-tolerant plants with short roots, or build the table deeper at one end.
Adaptive Methods and Tools
Using a stool and knee pads can make gardening a little easier. Purchase materials in smaller packages that are lighter to carry, and use a garden cart, which is easier to handle than a wheelbarrow.
Work for shorter lengths of time and wear light, loosefitting clothes when it's warm out. And don't forget a hat and sunscreen.
Adaptive tools can help many people who enjoy gardening, but have difficulty due to arthritis, vision impairment, or other physical challenges. Shorter handles provide better leverage, extra thick handles can aid arthritic hands, and double-handled grips can be added in order to use both hands. Tools with trigger grips and rounded-out thumb rests are easier and more comfortable to hold.
Elsewhere on the Web