Plant Craft: Preserving Flowers
The garden is a convenient source of thoughtful, personal gifts. Gifts from the garden fall into three main categories: flowers, food, and decorations.
Pressing and Drying Flowers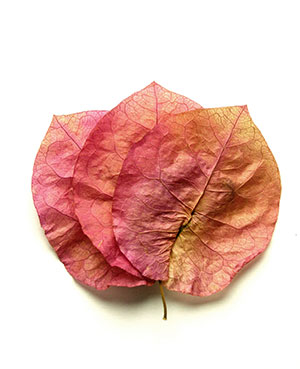 Pressing is probably one of the easiest ways to preserve leaves and flowers. This method works best for individual leaves and fronds that are relatively flat to begin with (think ferns), and flowers with only a few petals (like pansies).
It's as simple as placing the leaves or flowers between sheets of paper, or in a book, and putting something heavy on top. Patience is required—wait a few weeks before checking on them. There are quicker (and slightly more complicated) methods as well.
Pressed flowers and leaves look lovely in scrapbooks and can be incorporated into other crafts as well, such as homemade papers and cards.
Dried flowers can add a graceful note to your indoor décor. And arrangements made from them last a long time and require little care. Select flowers whose colors and forms you like—make sure to choose only those in excellent shape. Cut the flowers at midday when they're free of dew and rain, and before they're fully open. Always collect more material than you think you'll need, in case some of it is damaged. To dry your flowers, you can use several different techniques, including air drying, microwaving, or drying agents like sand. Besides flowers, consider using seedpods, cones, grain, grasses, and berries in your arrangements for unique textures and colors.
Preserving Leaves with Glycerin
You can bring the beauty of your garden indoors by gathering leaves and preserving them with glycerin.
Start by cutting off a small branch that has blemish-free leaves. Combine one cup glycerin with two and a half cups hot water and mix well. Then add a half teaspoon of powdered citric acid.
Place the stems into the solution and leave them to soak. Then remove them and let them dry for several weeks.
The preserved leaves will be pliable but won't necessarily retain all of their color. You can add dye to the glycerin mix to enhance their color. Create a cluster of leaves to use as a centerpiece, or string them into a decorative garland to grace a doorway.
Preserving Camellias with Wax
Camellia blooms are breathtaking, but they only last a few days as cut flowers. You can extend their beauty, and your enjoyment of them, by preserving them with wax. You'll need an electric wok, paraffin wax, mineral oil, and a bowl of ice water.
Combine five pounds of wax and one-and-a-half pints of mineral oil in the wok, and heat it to 138 degrees. Then take a freshly cut camellia and drag it through the hot wax in one smooth motion. Immediately plunge the flower into ice water, and then set it upright to dry.
With a little practice, you'll be able to create beautiful waxed blooms that last for many days without water. Display in a vase, float in a bowl of water, or even use them to decorate cakes.
You can learn more about waxing camellias from this video presented by South Carolina Endowment.
UF/IFAS Publications
Also on Gardening Solutions