Holiday Gift Plants
Plants make wonderful holiday gifts; they bring a bit of nature indoors and many can be replanted in Florida landscapes.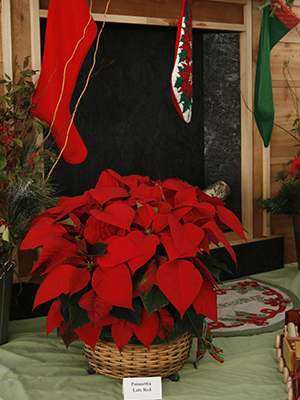 If you're looking for a gift that can be enjoyed long after the season of giving, there are a variety of plants to choose from. Small potted Norfolk Island pines, rosemary, or holly plants can be gifted as a miniature holiday tree to be enjoyed indoors. For the flower-favoring folks, paperwhite narcissus, amaryllis, cyclamen, and Christmas cactus make lovely holiday gifts. And of course no list of holiday plants would be complete without the ever-festive poinsettias.
When selecting a plant, make sure it has healthy foliage and that no roots are coming out of the pot. If you are purchasing a flowering plant, try to select one that hasn't fully bloomed yet. Of course, always be sure to include care instructions. Further down you can find a bit of information on gift plants; be sure to follow the links for even more detailed care instructions.
You can make your gift plant even more special by taking it out of that plastic pot and giving it in a creative container; read more in Choosing a Container.

Norfolk Island Pine — These small trees are quite popular as decorative table-top holiday trees. While they will stay quite modestly sized as houseplants, on their native Norfolk Island these trees stretch to an impressive 200 feet tall! Read more on these interesting trees—which are featured prominently on the Australian territory's flag—here.
Holly — While the other gift plants on this list can thrive happily in a container, hollies need a place in the landscape in order to survive. The good news is that holly plants do quite well in Florida gardens; just be sure that your holly recipient has a place for it in their yard. Learn more about the hollies you can grow in Florida.

Cyclamen — This cool-season bloomer is often used as an accent plant indoors and can also be grown as a winter annual in Florida. Dark green to silvery leaves coupled with recurved twisting flowers in shades of red, pink, or white make this little plant quite the lovely holiday gift. Learn more about this plant.
Amaryllis — These subtropical bulbs are popular gift plants because they can be forced to produce stunning flowers during the holiday season. Amaryllis is grown in pots indoors throughout the country, but Florida gardeners are lucky to be able to grow these beauties year-round. Learn how to care for your amaryllis in the landscape.
Paperwhite narcissus — These bulbs are great alternatives to the ever-popular amaryllis. This bulb is also quite easy to force to flower and can also be planted in the landscape by gardeners in north and north-central Florida. Learn more about these holiday gift bulbs.
Poinsettias — A classic holiday icon, poinsettias are another lovely potted plant that can be enjoyed either inside or in the Florida landscape. With a little love and care your poinsettia will survive the holiday season and thrive for years to come. Learn more about successfully caring for your poinsettia.
Christmas cactus — Thanks to its name, colorful blooms, and low-maintenance reputation, Christmas cactus is another popular holiday gift option. Most often grown as houseplants, Christmas cactus can be planted outside in warm areas, so long as it is protected from freezing temperatures. Learn more about Christmas cactus.
Rosemary — This wonderful perennial herb can often be found pruned as a holiday topiary. Rosemary plants can be enjoyed for their lovely looks and smells while being regularly clipped for use in the kitchen. This herb can live out its life in a pot in the kitchen long after the holidays pass if given good light, or planted in the garden. You can read more on growing rosemary here.
Caring for Your Plant
Poinsettias, amaryllis, and other gift plants bring welcome holiday color to the home. The trick to making them last is just to follow a few simple rules. Locate your plant in bright indirect light. Look for a spot in front of a window, but away from direct sun, drafts, and heating sources like vents or radiators. Check the plant's moisture level every few days by inserting a fingertip into the soil. If it feels dry beneath the surface, take it to the sink and water thoroughly, letting it drain for a few minutes. Don't let your plant sit in water. If cared for properly, gift plants can brighten your life for months—and even years—to come.
Also on Gardening Solutions