Landscaping in the Shade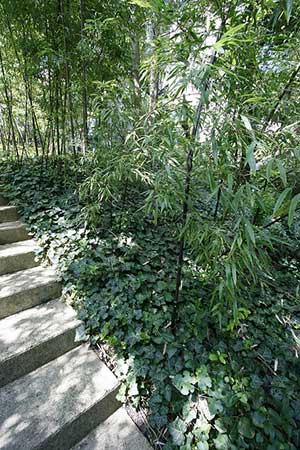 Shade provides welcome relief from Florida's intense sun and heat, but gardening in shade can be challenging. Many landscape plants demand extended periods of full sun to produce well.
Shade shifts daily, seasonally, and over time as trees grow. Carefully analyzing where and when shade occurs in your landscape is an important first step.
Also, recognizing types of shade is important as some kinds of shade are suitable for growing plants while other types are very problematic. For example, many shade-tolerant plants prefer the following conditions:
Four or fewer hours of full sun, preferably morning or evening
Dappled shade all day
High, shifting shade (pine shade)
Examples of difficult shade include the following areas:
Dense and dark (no sun)
In the shadow of buildings
Dominated by tree roots
Very wet or dry
Sometimes difficult shade can be improved by lifting or thinning the tree canopy or large shrubs so more sun or indirect light can penetrate. Keep in mind that there are right and (very) wrong ways to prune trees. Rely on a professional, such as an ISA Certified Arborist, to do the job.
Sometimes the best solution for difficult shade is to convert it to an outdoor garden room enhanced by seating, garden art, mulch, hardscape, colorful containers, a water feature, a birdbath, or other focal points.
We've listed some plants that do well in shady landscape, but these lists are not exhaustive. Every plant has cultural needs besides light. Make sure to select plants that are suited to your particular landscape.
A few other considerations when growing plants in shade include the following:
Areas under tree canopy tend to be warmer, frost-free spots more amenable to cold-tender plants.
Digging among the roots of trees and shrubs is difficult, so use smaller plants that don't need a large planting hole. Water them frequently until they're established.
Fertilizer cannot compensate for inadequate light. It is not a substitute for photosynthesis.
Shaded lawns should be mowed higher and receive less fertilizer, water, and traffic.
For color in shady areas, use plants that produce light-colored flowers. Dark flowers don't show up as well.
Your local county Extension office can verify the reliability of a plant in your county.
Perennials for the Shade
Some shade loving plants also love the sun, so if your shade shifts, look for plants that adapt, like flax lily. Many shady areas are also dry, so use drought tolerant shade lovers like devil's backbone. Perennials with white or brightly colored flowers or variegated leaves, such as jewels of opar, will really stand out. Other shade-loving perennials include ferns, crossandra, and gingers, but many more are available.
Also on Gardening Solutions
Groundcovers for Shade
Most varieties of lawngrass won't thrive in shade, so you're better off planting a groundcover that's easy to grow in low-light conditions. Liriope muscari, often called lilyturf or border grass, offer thin grass-like leaves and attractive flowers. Asiatic jasmine is a fast-spreading, densely growing groundcover that will thrive in sun or shade. Remember that unlike turf, groundcovers won't tolerate foot traffic, so you'll need to plan for walkways or paths. Read our article, Groundcovers for Shade, for more options.
Also on Gardening Solutions