Hurricane Landscaping
The Atlantic hurricane season lasts from June 1 to November 30. August and September are generally the most active months.
The 2021 Atlantic hurricane season was the sixth above-average season in a row and the third most active year on record. It also marked the first time that two consecutive years exhausted the list of storm names. "Ida" was retired from the list of potential names following its devastating effects last August.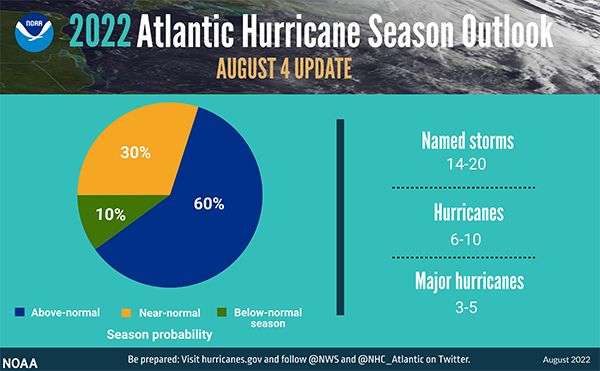 Larger image and full text version
Forecasters at NOAA's Climate Prediction Center are predicting 2022 will be another above-average year in terms of Atlantic hurricane activity. One thing you can do to protect your family and home is to hurricane-proof your landscape. Here are some tips to help you get started:
Right Tree, Right Place – Choose trees that are well-suited for your landscape. Plant larger trees away from your home, power lines, and other structures. This reduces the risk of branches—or trees—falling on your home. It also prevents them from knocking down power lines.
Choose Wind-resistant Species – Some trees are more wind-resistant than others. Suggested wind-resistant varieties include sabal, manila, and pygmy date palms. Gumbo limbo, live oak, and sea grape also have high hurricane survival rates.
Regular Pruning and Maintenance – Regular pruning has several benefits. It promotes healthy growth and removes dead, dying, or diseased limbs. Assess trees, paying close attention to the branches. Remove limbs that are dying, damaged, or weakly connected to the trunk. Thinning or reducing the crown can reduce trunk movement during a hurricane. You can also prune to reshape the tree. When done correctly, reshaping can make trees more resistant to wind damage. If branches are large or high in the tree, seek help. It's best to hire a certified arborist to prune.
Planting in Groups or Masses – Planting groups of mixed trees together can greatly enhance wind resistance. The trees buffer each other as well as your property and landscape plants. There is, however, recent research that suggests urban tree plantings aren't typically planted close enough.
After a hurricane, remember that your landscape needs to be maintained. Damaged trees need to be removed or restored.
And be sure to check out our Trees and Hurricanes website. This resource provides detailed information on storm damage prevention and treatment. (Disponible en Español)
Also on Gardening Solutions
More from UF/IFAS
Be Prepared with .Gov