Florida Automated Network - FAWN
Gardeners in Florida are lucky to have the UF/IFAS Florida Automated Weather Network (FAWN). FAWN is a weather network of 42 monitoring stations across Florida from the north in Jay to the south in Homestead.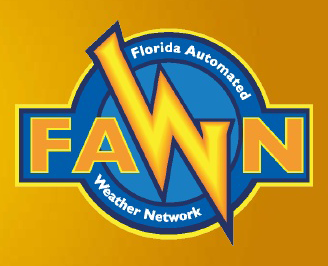 Weather data is collected every 15 minutes:
Air Temperature at 30 feet
Air Temperature at 6 feet
Air Temperature at 2 feet
Soil Temperature at 4 inches
Relative Humidity at 6 feet
Wind Direction at 30 feet
Wind Speed at 30 feet
Rain at 5 feet
Average Solar Radiation
Dew Point Temperature
Barometric Pressure
Weather data calculated every 15 minutes
Daily Wet Bulb Temperature
Daily Evapotranspiration (ET) – ET is the sum of evaporation and plant transpiration from the land's surface to the atmosphere.
Hurricane Irma resulted in some fascinating data collected by FAWN. Here are some weather facts from Hurricane Irma in September 2017:
Highest Rain Fall recorded at a Fawn Weather Station in a 24-hour period. In Frost Proof, FL 16.90 inches
Highest Rain Fall recorded at a Fawn Weather Station in a 15-minute period. In Immokalee, FL on September 10, 2017 at 6:30 pm: 2.16 inches and also at Frost Proof that same day at 10:00 pm: 2.14 inches.
For More Information