Storing Your Tools
"A place for everything and everything in its place."
This time-honored phrase isn't just for the office or home, it applies to your landscape as well.
Tools should be cleaned and stored in a dry location. This includes not only large items like shovels and rakes, but also smaller items like pruners and trowels. Certain tools will also need periodic sharpening and oiling.
Storing your garden hose properly goes a long way towards making it last. Hose storage devices can help prevent kinking, minimize sun damage, and can even add a decorative accent. You could also try a wall-mounted hose bracket or hook. Another option is a hose reel with a crank that allows you to wind up the hose. Some models have wheels so you can move them around the yard, while others are stationary.
If you want to make storing your hose even easier, you could try a water-powered hose reel that automatically winds up your hose with the flick of a lever—no manual winding required.
Leftover bags of potting soil and fertilizer should be tightly sealed or kept in airtight containers to keep them dry. Always remember to store pesticides out of the reach of children and in their original containers.
Winterizing Power Equipment
Lawn mowers, chain saws, and other power tools should be stored unplugged and in a secure location. This is especially important in winter, when power equipment will probably be sitting for a longer amount of time.
To ensure that your lawn mower, leaf blower, or power washer work exactly as you'd like next spring, prepare them correctly for a few months of winter storage.
Make sure the equipment you plan on storing is in good working condition. Fuel should be drained completely. If you decide not to drain the fuel because you may occasionally need to use the machine, add a fuel stabilizer.
Change the oil and oil filters. Take a look at hydraulic fluids and wear points for excessive damage. Check for worn tires that might need replacing, and replace any worn out bearings, batteries, spark plugs, or air filters.
Once you've performed all necessary repairs on your equipment and attended to the fuel, it's time to stow it away. Make sure that all the items are covered so that they stay dry.
Garden Sheds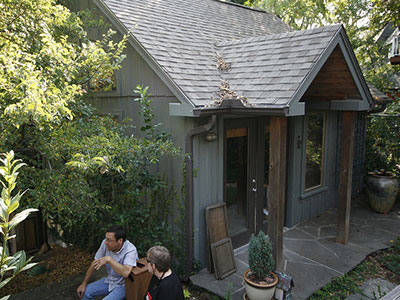 Some people choose to store their garden tools in their garage. If you're looking for a little more room, consider a shed.
Garden sheds can be as simple as a prefabricated unit for storage, or as fanciful as a cottage-style potting shed, complete with sitting area for enjoying the view. Coordinate yours with the style of your garden or the design of your house.
Simple sheds can be purchased from most home and garden stores in a variety of sizes. Something more complex will require a little effort, either by you or a professional.
Before adding a shed to your garden, plan ahead. Check with your county and homeowner's association for any required permits. Consider how it will be used and where the best location would be. Will your structure be a centerpiece, or tucked away from view?
It should be placed on level ground and close to where your garden work will take place. Be sure to make a list of everything you're planning on storing in the shed; this will help you determine how large of a structure you need. Additional features you might want to consider include adding access to power and water for convenience. Don't hesitate to call a professional if you need help. You'll want your little house to last as long as your big one.
Take care of your garden supplies and they'll serve you well for years to come.