Saw Palmetto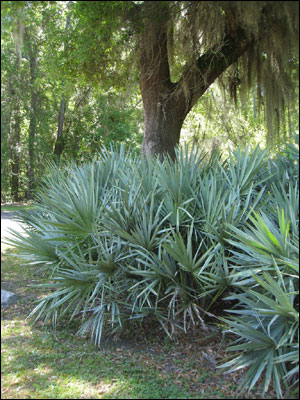 Saw palmetto grows wild in Florida's natural areas, but it's also a great plant for home landscapes throughout the state. This native plant tolerates a range of conditions and makes a wonderful shrubby ground cover that can add textural interest beneath new or established trees. And it's highly salt-tolerant, making it ideal for coastal gardening.
Characteristics
Saw palmetto is a a slow-growing, clumping, multi-trunked shrub that typically grows four to six feet tall and equally as wide in home landscapes. It has stout stems that usually crawl across the ground and produce green, fan-shaped fronds.
For added interest, try growing the variety that has striking silver foliage and is sometimes sold under the cultivar name 'Cinerea.' It was named a Florida Plant of the Year in 2000 and a Plant of the Decade by the Florida Nursery, Growers, & Landscape Association (FNGLA). This plant provides a beautiful backdrop for mixed borders and works well as a privacy hedge or foundation planting.
Saw palmetto is also great for wildlife. Not only is it a host plant for the larvae of the palmetto skipper and monk butteflies, many birds and other wildlife feed on the reddish-black fruits that ripen from August to November. Practitioners of alternative medicine maintain that the fruit can help treat urinary tract infections and increase prostate health.
Known scientifically as Serenoa repens, saw palmetto is native to coastal areas of the Southeast and can be found growing as far north as South Carolina and as far west as Texas.
Planting and Care
It's important to pick the right spot for planting, since saw palmetto can be difficult to move once established. Choose an area that will allow the plant room to grow and that will be far enough from walkways and children's play areas that the sharp leaf stems won't cut anyone.
Saw palmetto prefers full sun but will grow in almost any light conditions. It will benefit from regular waterings at first, but will be very drought tolerant once established.
Plants can be purchased in pots at many nurseries and can be planted year-round in Florida.
For more information on saw palmetto, contact your county Extension office.