Beach Sunflower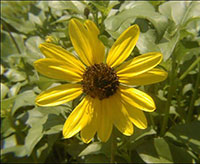 Beach sunflower is a butterfly-attracting Florida native that's perfect for hot, dry sites, including coastal areas.
It blooms almost year-round with two-inch, daisy-like flowers that have yellow petals and brown centers. A fun fact is that the flower heads always follow the sun throughout the day.
Beach sunflower (Helianthus debilis) is a perennial plant that also reseeds, creating a larger clump over time. Many gardeners like to use it as a colorful and drought-resistant groundcover. Just be sure to leave it enough room to spread.
Start your patch of beach sunflower either from seeds or cuttings, taking care to select a full sun location. Once established, beach sunflower is drought tolerant and can get by with little or no irrigation.
UF/IFAS Publications
Also on Gardening Solutions