Arbor Day in Florida 2020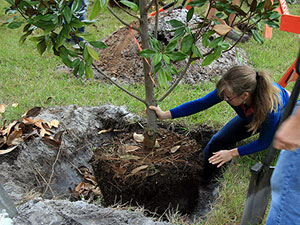 Arbor Day is recognized in Florida on the third Friday of January. We list events as we receive them.
Brooksville: Hernando County Arbor Day Tree Giveway
The UF/IFAS Extension Hernando County office will conduct its annual Florida Arbor Day Tree Workshop and free tree giveaway at the Master Gardener Nursery with our Hernando County Senior Forester Matt Stevens. Participants will attend a brief workshop on how to properly plant and care for trees, and everyone will go home with a free tree to plant in their landscape! No registration is required, the class and trees are totally free. Just be at the nursery at 9:00 AM. Supplies are limited to 425 trees.
Saturday, January 18, 9 a.m.
UF/IFAS Extension Hernando County
Master Gardener Volunteer Nursery
1490 Oliver Street
Brooksville, FL
Dade City: Arbor Day and Memorial Tree Celebration
Speaking at the event will be Dr. Whitney Elmore, UF/IFAS Pasco County Extension Director and Foresters Mona Neville and Arthur Clothier from the Florida Forest Service. Memorial trees that have been given throughout the year will be recognized. Trees are dedicated in memory or in honor of a person or special occasion and are living and lasting tributes that add beauty for the city and quality to the environment. The Garden Club is extending a special invitation to the public to join them for this special event to celebrate Arbor Day and to honor the tree recipients. The event is free and light refreshments will be served. For information about the program or information on how to order a memorial tree, call Debbie at 352-567-9003.
Friday, January 17, 10 - 11:30 a.m.
Dade City Garden Club
13630 5th Street
Dade City, FL
DeFuniak Springs: Walton County Master Gardener Volunteer Tree and Plant Sale
A wide variety of plants and trees will be offered: shade trees, ornamentals, citrus, flowering, tropical, fruits, nuts, berries, shrubs, grasses, vines, palms, and ferns.
Saturday, January 18, 9 a.m. - Noon
UF/IFAS Extension Walton County
DeFuniak Springs, FL
Gainesville: Arbor Day 2020 at Depot Park
Celebrate Gainesville's 36th year as a Tree City USA with the City Beautification Board, City of Gainesville Urban Forestry, and City of Gainesville - Parks, Recreation and Cultural Affairs (PRCA). Enjoy live music, have lunch with your neighbors under the Depot Park Pavilions, and take part in our tree planting ceremony. Free trees will be provided on a first-come, first served basis. Bring your own lunch or register for lunch at https://forms.gle/3BWS37Ayp66Shxiq8. Publix subs will be provided for lunch to the first 100 registered.
Friday, January 17, 11 a.m. - 1 p.m.
Depot Park
874 SE 4th Street
Gainesville, FL
New Smyrna Beach: Arbor Day Celebration and Tree Giveaway
Giving away free bald cypress, Southern red cedar, Southern magnolia, and green ash trees to city residents. Milkweed seeds, an important food source for the monarch butterfly, will also be distributed.
Saturday, January 18, 9 a.m.
Utilities Commission Building
200 Canal St.
New Smyrna Beach, FL
Palmetto Bay: Arbor Day Tree Planting Ceremony
Friday, January 17, 10 a.m.
Palmetto Bay Park
17535 SW 95 Avenue
Palmetto Bay , FL 33157
St. Augustine: Arbor Day Celebration
School presentation and sapling giveaway
Friday, January 17, 9 a.m.
Joe Pomar Park
1600 Masters Drive
St. Augustine, FL
Tavares: 3rd Annual Arbor Day
Come for the tree giveaway: green ash, white dogwood, American elm, red maple, and slash pines. Educational programs from UF/IFAS Extension Lake County will have birds of prey on hand to view and Extension Specialist Holly Ober will share the amazing world of bats.
Saturday, January 18, 10 a.m. - 3 p.m.
Wooten Park
301 E Main Street
Tavares, FL
Winter Haven: Florida Arbor Day Celebration
The City of Winter Haven Natural Resources Division and Urban Forestry Advisory Board in conjunction with the UF/IFAS Extension Polk County Office offer this event in celebration of Florida Arbor Day. In lieu of a giveaway, community plantings will take place at Winter Haven Recreational and Cultural Center on Jan 17, 2020, and a secondary event on Jan 18, 2020, at South Lake Howard Nature Park. Both planting events will include educational stations & activities celebrating the urban forest resource and the many economic, social, and environmental benefits it provides!
Friday, January 17, 3-5 p.m.
Winter Haven Recreational and Cultural Center
801 MLK Boulevard
Winter Haven, FL
Saturday, January 18, 10 a.m. - 2 p.m.
South Lake Howard Nature Park
1570 Lake Howard SW
Winter Haven, FL