Trees: North and Central Florida Field Guide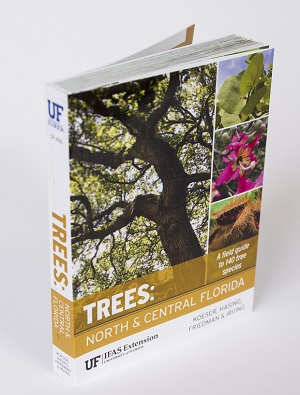 Trees: North & Central Florida is available in the UF/IFAS bookstore. This sturdy, pocket-sized field guide—the only one of its kind for north and central Florida—is composed of large, clear, colorful pictures that can be used for quick identification. Written by Andrew Koeser, Gitta Hasing, Melissa Friedman, and Robert Irving. The 140 trees include native, introduced, and invasive species and are arranged by leaf type for ease of use. Florida hardiness zones are included as are special notes about natural history, as well commercial and cultural uses.
App for iPhone and iPad
The Trees: North & Central Florida mobile application is a readily accessible field guide for professionals, Master Gardeners, educators, and those interested in identifying the trees of north and central Florida. Available at the Apple App Store for iPhone and IPad.
App Features:
Search and filter for specific tree characteristics
Tag and save your favorite trees
Share trees via email, text, and social media
App comes with 20 trees for free, but the remaining 120 can be unlocked for $3.99
Trees: South Florida and the Keys Field Guide
The South Florida edition of our tree field guides is currently out of print.