Meyer Lemon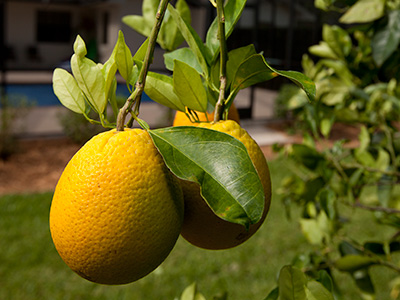 Thought to be a cross between a lemon and a sweet orange, Meyer lemons were brought from China in 1908 by Frank Meyer, a USDA plantsperson. The rich orange-yellow Meyer lemon fruits provide a sweeter alternative to common lemons while bringing color and interest to your winter landscape.
Characteristics
Meyer lemons will bear fruit mostly during fall and winter. Beyond their fruit production, dark green leaves and fragrant flowers make Meyer lemons an ideal ornamental plant. This plant can even be successfully grown in containers or inside as a houseplant, although it is unlikely to fruit when kept inside. Only purchase certified nursery plants from nurseries registered with the state.
The 'Improved Meyer Lemon', the only variety available since the 1970s, offers resistance to a virus which had been problematic for the plant in the past.
Planting and Maintenance
Lemon trees thrive in sandy loam soil that is moist but not soggy.
Fertilize with a 6-6-6-2 (6% nitrogen-6% phosphate-6% potash-2% magnesium) mixture after planting your tree. For more information on fertilizing your lemon tree read "Lemon Growing in the Florida Home Landscape"
Meyer lemons are self-pollinating plants so you don't need to worry about keeping multiple plants for your tree to bear fruits.
While able to handle cold weather better than other citrus plants, Meyer lemon plants do need to be protected from temperatures below 20°F. Make sure the cover you are using for your plant is large enough to touch the ground, this way heat from the ground can be trapped to help keep your plant warm.
For more information on Meyer lemons and other fruit, contact your county Extension office.
Also on Gardening Solutions
More from UF/IFAS