Mobile and Web Applications from the UF/IFAS Center for Landscape Conservation and Ecology
Gardening information is now at your fingertips with our mobile web tools. 
Trees: North & Central Florida
The Trees: North & Central Florida mobile application is a readily accessible field guide for professionals, Master Gardeners, educators, and those interested in identifying the trees of north and central Florida. Written by Andrew Koeser, Gitta Hasing, Melissa Friedman, and Robert Irving.
Available for iPhone and iPad from the Apple App Store.
140 Florida native, introduced, and invasive species
Beautiful color photographs for each species
Special notes about natural history, as well as commercial and cultural uses
Tag and save your favorite trees
Share trees via email, text, and social media
App comes with 20 trees for free, but the remaining 120 can be unlocked for $3.99
Also available in softcover book form from the UF/IFAS Bookstore.
Florida Fresh Web Tool
Recently updated, Florida Fresh offers a new way to access popular UF/IFAS publication "The Florida Vegetable Gardening Guide." Simply enter your zip code and the website displays crops to plant in your area this month. It also lists fruits and vegetables that are in season for your area.
This web tool is easy to access on a computer or mobile device. The simple layout and personalized content make it a helpful resource for new gardeners.
Visit the Florida Fresh web app now
The Florida-Friendly Landscaping™ Plant Guide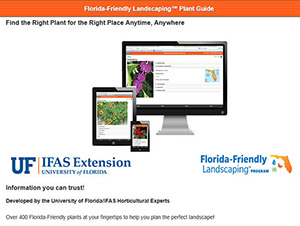 The Florida-Friendly Landscaping™ Plant Guide features more than 400 Florida-Friendly plants that can be selected by their type, shape, and sun tolerance. Each plant is accompanied by a color photo.
The mobile web tool allows users to simply plug in their zip code to get specific gardening-zone recommendations for temperature tolerance and watering requirements.
The free plant guide works on any device with a web-enabled browser, such as an iPhone, Android, or tablet.
Get the Florida-Friendly Landscaping™ Plant Guide Mobile Web Tool now
Landscape Pests

The new Landscape Pests app and mobile website helps users diagnosis and learn about common insect and mite pests found in Florida and elsewhere in the southeastern United States. Users can search for pests using menus based on plant host or damage symptom, as well as by common or scientific name.
Landscape Pests currently features nearly 300 pests, and will continue development to expand the numbers of pests, as well as search capability.
Visit the Landscape Pests Mobile website now
Landscape Pests is now available for iPhone and iPad in the Apple App Store.