Northwest District Gardening Programs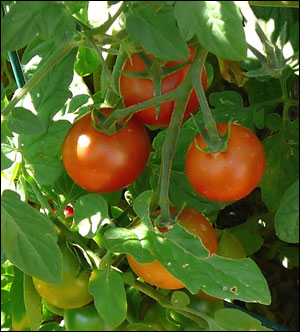 Grow Better Tomatoes
Tuesday, March 28, 10am–11:30am CDT
UF/IFAS Extension Calhoun County
20816 Central Ave. E.
Blountstown

UF/IFAS Extension Calhoun County would like to invite you to attend the workshop "Grow Better Tomatoes." This latest installment of the monthly Garden Talks program will be held Tuesday, March 28th from 10:00 am – 11:30 am CDT at the UF/IFAS Extension Calhoun County office, 20816 Central Avenue East in Blountstown.

This workshop will feature Calhoun County Agent Daniel Leonard teaching some simple tips and techniques to help you maximize your tomato yield this spring! Come set yourself up for success in the garden by getting your plant nutrition right, selecting the best varieties, avoiding disease, and other lessons learned through research and experience.

Seating is limited, so call (850) 674-8323 to reserve your spot! Garden Talks have a $5 registration fee and attendees will receive presentation handouts, educational publications, and hands-on experience. We hope to see you there!
Vermiculture 101
Thursday, April 6, 10-11:30 am CDT
UF/IFAS Extension Jackson County
2741 Penn Avenue
Marianna, FL

Worms, worms, worms…

Ever wonder what all the talk is on having your own worms? Vermiculture 101 will be taught by our Leon County Extension Agents. They will set you up with the benefits and advantages of incorporating worms into your composting. This will be a free informative talk.