Gifts for the Gardener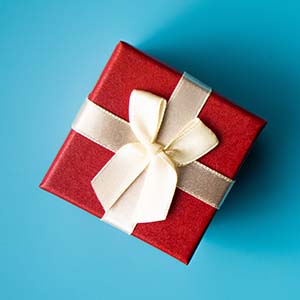 The holidays are the perfect time to show your favorite gardener how much you care. There are wonderful gardening gifts for every price range, from just a few dollars to many hundreds. And there's something for every taste.
Gift Plants
Plants make great gifts with beauty that continues long after the holidays are over. Christmas cactus and poinsettias are popular holiday gift plants. Amaryllis, rosemary topiaries, and even ornamental peppers can make festive holiday gifts as well.
For a foliage plant, try Stromanthe 'Triostar.' It has green and white leaves with bold red undersides.
Think outside tradition and let your imagination run wild when selecting plants for gifts. Just keep in mind the needs of the plant and the growing experience of your gift recipient.
When selecting a plant, make sure it has healthy foliage and that no roots are coming out of the pot. If you are purchasing a flowering plant, try to select one that hasn't fully bloomed yet. Of course, always be sure to include care instructions. Make your gift plant even more special by taking it out of that plastic pot and giving it in a creative container.
Read more in our article "Holiday Gift Plants."
Garden Tools
Here are a few gift suggestions from Wendy Wilber, statewide coordinator of the Florida Master Gardener Volunteer Program:
"The folding pruning saw is a great addition to the tool shed, because loppers are not meant to cut branches 4 inches in diameter. For branches and trunks that are too big for loppers a folding saw will make short work of a pruning job. Folding saws are super sharp and conveniently fold up for safe carrying and storage.
If your favorite gardener doesn't have high-quality bypass pruners that can be cleaned and sharpened, they're missing out on a gardening joy. Good quality pruners are expertly crafted and weighted for a wonderful pruning experience. When you spend the money on the best tools they can last a lifetime.
Hori-hori is the Japanese name for a serrated planting knife. Most hori-horis are about 12 inches long and have a comfortable wooden or plastic handle. They are used to scuffle weed, plant small material, cut string, and anything else you might need a large knife for in the garden.
Bypass pruners can do most of the pruning in the yard, but for the perennial or annual garden you really need a pair of lightweight deadheading snips. These look like small pointy scissors and are perfect for deadheading flowers, cutting off seed heads, snipping tomatoes, and harvesting other vegetables.
Weeding glasses are like reading glasses for the garden. They are sunglasses in varying magnification strengths that make weeding easy. You will be able quickly identify weeds and pull them all while looking very fashionable in the garden. These also work for tying knots and identifying insects, too.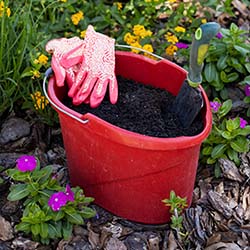 Every gardener needs a new pair of gloves. My favorite are the nitrile-grip coated gloves that breath. These are perfect for Florida because they don't get too hot and are washable. Look for gloves that are thick enough to handle roses and light enough that your hands don't sweat.
How about a nice new fabric waist apron to put all your tools in? I like the ones that have my favorite big store name on the front. They are washable, lightweight, and can carry more than you think. Keep your cell phone and a little snack next to your pruners so you can stay out in the garden as long as possible."
Wendy has even more gardening gift ideas in the December 2021 issue of The Neighborhood Gardener.
Other Gift Ideas
A hand cart, new mower, or lawn edger will make yard work easier. Think about giving the weather-watcher a rain gauge or thermometer. They're made in a wide range of styles and can come with high-tech automatic features. Or light up the night with a landscape lighting system. The gift of weatherproof speakers will allow your gardener to listen to music (or the big game) while enjoying the great outdoors.
Gardening shoes, clogs, or boots are great utilitarian items for those of us who like to dig in the dirt—although your gardener would call it soil—and a hat would keep that Florida sunshine out of the eyes.
Depending on your gardener's interests, other suggestions include a subscription to a Florida-specific gardening magazine, birdfeeders, bat houses, or even fountains.
Also on Gardening Solutions