Join the Air Potato Patrol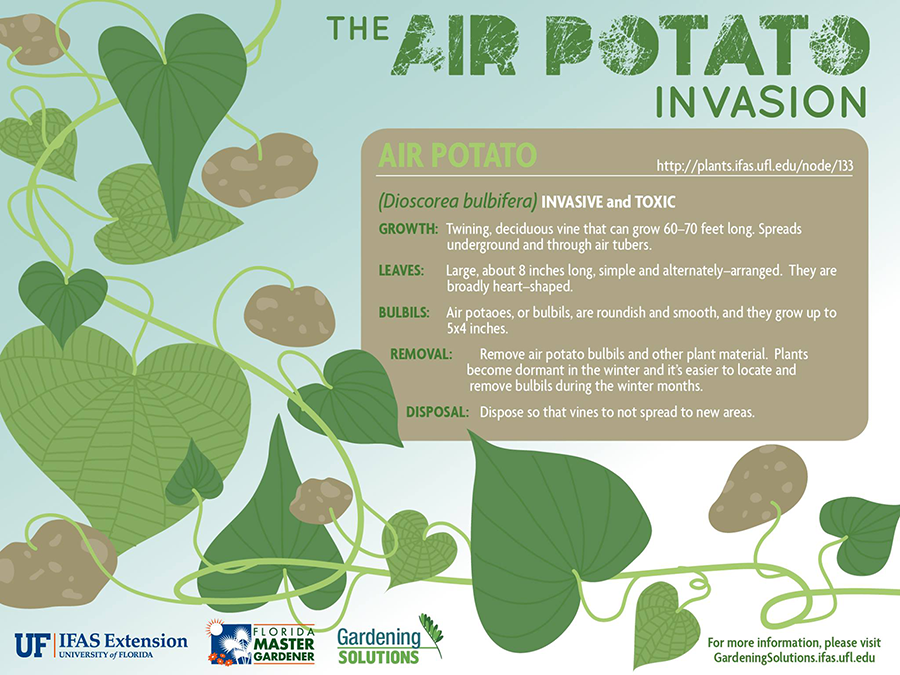 Learn More
Join the Air Potato Patrol and Become a Citizen Scientist Today

The Air Potato Patrol is a citizen science project that involves scientists and researchers with the USDA and the State of Florida and of course you — citizens concerned about the effects of invasive species on our economy and environment.
The project, created by Dr. William Lester with UF/IFAS Extension in Hernando County and Dr. Chris Kerr with the Florida Department of Agriculture and Consumer Services, began in the spring of 2016 when the air potato beetles failed to return on their own. It was then that we realized there was a lack of knowledge about the habits and biology of the invasive air potato vine and the beetles that had been released as a biological control.
Our goal is to educate and involve as many members of the public as possible to help control air potato vine in Florida.
How we plan on doing that is to involve YOU in the process as our eyes on the ground and around the state.
Science is making great strides in better understanding air potato vine, how to stop its spread and how to better control it, but we need your help.
The Gardening Calendars on the UF/IFAS Solutions for Your Life website gives Florida gardeners a monthly guide for what to plant and do in their gardens and includes links to useful gardening websites, all based on University of Florida research and expertise. Three different editions of the calendar provide specific tips for each of Florida's climate zones—North, Central, and South.
Also on Gardening Solutions