Okaloosa County Gardening Programs
Bulldoze or Do-Over: When and How to Renovate Your Landscape
With Commercial Horticulture Extension Agent Sheila Dunning
The Okaloosa County Master Gardener Volunteer Program will offer a free lecture on landscape renovation on Wednesday, August 21 from 10:00-11:00 a.m. at the Okaloosa Extension Annex, 127 Hollywood Boulevard NW, Fort Walton Beach.
Things go out of style, age and wear out during the years — and that includes landscaping. A landscape is dynamic, always growing and changing. Just like a home or car, a landscape needs regular maintenance to look its best. There are many reasons to renovate: add curb appeal, correct drainage, repair irrigation, increase the home's value, provide plants room to grow or to improve security.
Sheila will help guide you in assessing your needs, setting goals, and finding design ideas to help renovate your landscape.
Seating is limited for this seminar and reservations are required. Please call the UF/IFAS Extension Okaloosa County Office at 850-689-5850 or email achisholm@myokaloosa.com to reserve your seat.
Landscape Design Course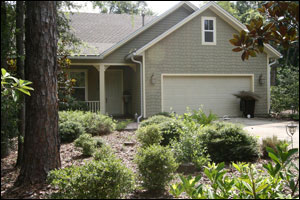 Each spring and fall semester, Okaloosa County Master Gardener volunteers offer classes on gardening as non-credit continuing education courses.
A six-week Landscape Design Workshop with Instructor Karen Kirk Williams and a team of Master Gardener Volunteers will be offered at Northwest Florida State College beginning September 24. Classes will be held on Tuesdays from 10:00 a.m. – Noon and will provide a step-by-step, interactive approach to learning how to design, install, and maintain an environmentally friendly landscape using Florida-Friendly plants. Course includes an 80+ page handbook.
For complete information and registration for the Landscape Design Workshop, visit www.nwfsc.edu/ContEd. Class size is limited, with both registration and payment handled through the college.
Gardening in the Panhandle Classes
The University of West Florida's Center for Life Long Learning (CLL) Gardening in the Panhandle classes will begin September 16 and run seven weeks. These classes are offered by Okaloosa County Master Gardener Volunteers as non-credit continuing education courses each spring and fall semester.
Information on class description, schedule, location, cost and instructions for registration can be found at http://cll-fwb.org/RegistrationSchedule.html. Class size is limited and registration and payment is handled through the college.
---
Monthly Plant Clinics
Okaloosa County Extension Horticultural Agent Larry Williams and a team of Master Gardener volunteers will be at the monthly Plant Clinic on Friday, August 9, 9:00 a.m. to noon at the County Extension Annex, 127 Hollywood Boulevard NW, Fort Walton Beach.
Master Gardener volunteers are available at the Fort Walton Beach Annex to answer your questions every Friday morning (except holiday weekends). You may bring a sample leaf or stem of your plant, grass, or weed problems to be identified, as well as solutions and suggestions on best gardening practices.
The clinic provides a place to bring samples of lawn, landscape and garden plants for diagnosis, including weeds and insects for identification. To participate, bring a fresh sample of the weed, plant, insect, etc., to the clinic. This may include a plant stem with several leaves, a 4-inch square of grass with roots attached, etc.
You also may bring a sample of soil for pH testing. Use a clean shovel, trowel or soil probe to collect a representative sample by taking thin slices or cores of soil to a depth of six to eight inches from ten different spots throughout the plant bed, lawn or garden. Thoroughly mix all the small soil slices/cores together in a clean bucket. Place one to two cups of this mixture in a closable plastic bag or small throwaway plastic container and bring to the clinic for testing. Attach a slip of paper with your name, phone number and where the sample was taken (e.g. lawn, vegetable garden, flowerbed, etc.)
For residents living closer to our Niceville office, we have Master Gardener volunteers available to identify your plants or plant diseases, conduct soil sample testing, or give you advise for your lawn care or vegetable growing on Mondays (except for holidays) from 11 am to 1 pm at the Niceville Youth Center, 200 Campbell Drive.
Our Crestview office is located at 3098 Airport Road, and often has Master Gardener volunteers are available at that location during business hours, but be sure to call 689-5850 to be sure someone is available before going. Soil testing is offered at the Crestview office on Monday mornings. For further information, or to schedule a home visit by a team of Master Gardener volunteers, call 689-5850.