Arbor Day in Florida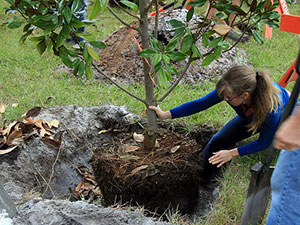 Arbor Day is recognized in Florida on the third Friday of January. We list events as we receive them.
Cantonment: Arbor Day Tree Giveaway & Workshop
Each attendee will receive two free native 1-gallon trees. Species available include: red maple, chickasaw plum, swamp chestnut oak, and fringetree. Arbor Day Art Contest winners will receive prizes during the program. For more information, contact Carrie Stevenson, Coastal Sustainability Agent III, UF IFAS Extension, at 850-475-5230 or ctsteven@ufl.edu. Support for the event is provided by the Florida Forest Service, RMS, and Escambia County.
Saturday Jan 19, 9 a.m.
UF/IFSA Extension Escambia County
3740 Stefani Rd, Cantonment, FL
Clermont: Tree Give Away
The City of Clermont will give out a thousand free slash pine tree seedlings with instructions on how to care for them in honor of Florida's Arbor Day.
Saturday, Jan. 19, 8 a.m. until trees are gone
Lake Hiawatha Preserve's East Pavilion
420 Lake Minneola Shores/County Road 561
Dade City: Arbor Day Celebration Tree Giveaway
As part of this celebration of trees, free redbud seedlings will be available, while supplies last. The giveaway is made possible through a partnership with Pasco County, Keep Pasco Beautiful, Covanta Pasco and the UF/IFAS Pasco County Cooperative Extension. At the celebration, Keep Pasco Beautiful will plant two trees in the community garden and master gardeners will offer educational seminars on backyard fruit trees, pruning trees and the proper planting of trees.
Friday, Jan 18, 10 a.m. to nooon
UF/IFAS Extension Pasco County One-stop Shop
15029 14th St., Dade City
Miami Shores: Florida's Arbor Day Tree Giveaway
Million Trees Miami will give away 1,000 trees to Miami-Dade County residents.
Saturday, Jan 19, 9 a.m. to noon
Miami Shores Community Center
9617 Park Drive, Miami Shores
St. Johns County: Arbor Day Tree Giveaway
The St. Johns County UF/IFAS Extension Office will distribute native trees in celebration of Florida Arbor Day. Species include wild black cherry, river birch, shagbark hickory, Dahoon holly, American snowbell, winged elm, Southern red cedar, elderberry and arrowwood viburnum.
Friday, Jan 18, 8:30 a.m. to noon
The trees will be available at: Bartram Trail Branch Library, Hastings Library, Southeast Branch Library, Publix at Murabella and Publix at Nocatee.
Stuart: Arbor Day Celebration
Martin County Master Gardener volunteers are pleased to celebrate Arbor Day with their Annual Tree Giveaway. Classes will start at 9:15am and are held every 30 minutes. Native Plant Society will be here with many native plants available for purchase.
Must attend the tree educational seminar to receive a free tree
Native slash pine and magnolia trees available (1 gallon size)
One tree per adult
Trees are limited. First come, first served. Variety not guaranteed.
Saturday Jan 19, 9am – 1pm
UF/IFAS Extension Martin County
2614 SE Dixie Hwy., Stuart
Tampa: Master Gardener Workshop Series - Tree Planting Basics
In celebration of Arbor Day, Join us to learn how to plant and maintain trees that flourish in Florida's climate. First 50 attendees in the door will receive a free Florida native plant. For all ages. Presented in partnership with Hillsborough County Extension Service and University Area CDC.
Saturday Jan 19, 10 a.m.
Arthenia L. Joyner University Area Community Library
13619 N 22nd St, Tampa, FL
Tarpon Springs: Saturday Youth Program: Celebrate Trees!
Florida Arbor Day is January 18th, come celebrate with us on the 19th! Let's celebrate Florida Arbor Day and the importance of TREES! We walk by trees every day and each of us views them differently. Come learn the basics of tree identification and find out all the benefits trees provide to us that you might not often consider. Led by Lara Milligan, your local Pinellas County Natural Resources Agent. Eventbrite page
Saturday Jan 19, 1pm – 2pm
Brooker Creek Preserve Environmental Education Center
3940 Keystone Road, Tarpon Springs, FL 34688
Tavares: Arbor Day Celebration - Saturday in the Gardens
Classes will be held in partnership with the City of Tavares, during the 2nd Arbor Day Celebration. Join UF/IFAS Extension Lake County and Master Gardener volunteers for the following free classes:
11:30 a.m. - Right Tree, Right Place • 1:30 p.m. - Easy to Propagate Trees and Shrubs for Central Florida
Other features of the City of Tavares Arbor Day Celebration include a tree give-away beginning at 10:00 a.m., wildflower seed give-away, meet and greet with Tavares Public Works, PW Pup, and lots more.
Saturday Jan 19, 9am – 4pm
Wooton Park, 100 E. Ruby St., Tavares