Alachua County Gardening Programs
The UF/IFAS Extension Alachua County Office is pleased to announce the following Environmental & Community Horticulture Programs. These programs are being offered at the UF/IFAS Extension Alachua County Office (2800 NE 39 Avenue, Gainesville) unless otherwise indicated.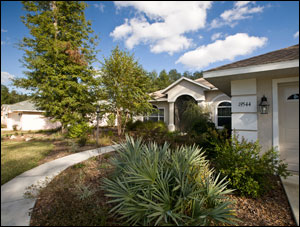 Florida-Friendly Landscaping™ Program Crash Course – February 19, from 6:00 to 7:30 p.m.
Veterans Memorial Park's Freedom Community Center, 7400 SW 41 Place, Gainesville, FL 32608.
Landscapes can be beautiful while conserving water, saving money, and minimizing maintenance. Join the UF/IFAS Extension Alachua County's Environmental and Community Horticulture Agent to learn tips for reducing water, minimizing fertilizer inputs, encouraging pollinators, and protecting our water resources in your landscape by following principles of the Florida-Friendly Landscaping™ program.
There is no registration fee to attend this class. Please pre-register by calling 352-337-6209 (voicemail). Limited to 100 guests.
Rainwater: Save Every Drop – March 7, from 6:30 – 7:30 p.m.
Newberry Branch Library, 110 S. Seaboard Drive, Newberry FL 32669. Conducted by Ann Hudson, Cindy Westbrook, and Denise Weaver, Master Gardeners
Slowing the flow of rainwater from your landscape saves on irrigation and decreases polluted creeks and flooding. Join the Alachua County Master Gardeners to learn the many ways utilizing rainwater on your yard can be accomplished. We will discuss ideas from the simple to the complex such as rain barrels, dry creek beds and rain gardens.
No registration fee. Please pre-register by calling 352-337-6209 (voicemail). Limited to 40 participants.
Growing Tomatoes in Alachua County – March 11, from 6:30 – 7:30 p.m.
Conducted by Jeff Powposki, Master Gardener
Learn to have success growing this garden favorite. Tomatoes can be grown successfully by many methods of culture: in baskets, in solution, on stakes, on the ground, mulched, unmulched or in a greenhouse. This class will include basics of how to grow tomatoes in Florida's challenging environment, including selection, managing pests, diseases, and disorders.
The registration fee is $10.00 and will cover course material and supplies. Pre-register through Eventbrite. Limited to 45 participants. There will be no refunds for the registration fee.
---
For more information about these programs call 352-955-2402. Visit the UF/IFAS Alachua County Extension website for additional programs offered by the Extension Office. And be sure to visit their Facebook page.