Alachua County Gardening Programs
The UF/IFAS Extension Alachua County Office is pleased to announce the following Environmental & Community Horticulture Programs. These programs are being offered at the UF/IFAS Extension Alachua County Office (2800 NE 39 Avenue, Gainesville) unless otherwise indicated.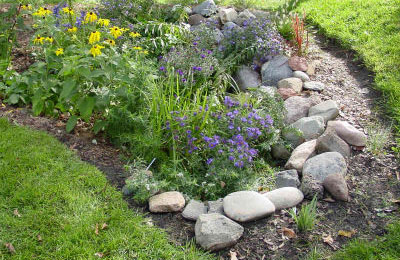 2018 Florida-Friendly™ Landscaping and Turf SWAP Tour – October 20th from 9:00am – 12:00pm. (See flyer; pdf)
Enjoy a walking tour to yards around Town of Tioga and other nearby neighborhoods that participated in the county's Turf SWAP program and became certified Florida-Friendly Landscapes. Visit with homeowners, Master Gardeners, and County Staff to learn more about both programs, and enjoy a stroll with your friends or family.
Pre-registration is recommended by calling (352)337-6209 (voicemail) or (352)955-2402 for more information. The event starts at the Tioga Clubhouse (205 S 131st Street, Newberry, Florida 32669).
Fall Pond Workshop – October 20, from 9:00 a.m. to 3:00 p.m.
UF/IFAS Center for Aquatic & Invasive Plants, 7922 NW 71 Street, Gainesville, FL 32653 (See flyer; pdf)
This program is being offered by Dr. Kevin Korus, Agriculture and Natural Resources Agent.
This workshop is geared toward pond owners managing for various functions; aesthetics, sporting recreation, livestock, fishing and other wildlife recreation. Specialists from the University of Florida will discuss pond construction, fish stocking/management, water quality management, and aquatic plant identification/control. Attendees are encouraged to bring water samples from their ponds to be tested for some basic health parameters. Also, aquatic weeds and algae can be brought in for identification and management recommendations.
The registration fee is $20 (includes lunch & learning materials) by October 17th. You can register through Eventbrite; late registration will be $30.00. No refunds.
For more information about this workshop contact Dr. Korus at (352) 955-2402.
Growing Wildflowers in Your Garden – November 1, from 6:30 p.m. to 7:30 p.m.
Newberry Library Branch, 110 S Seaboard Dr, Newberry, FL 32669; conducted by Wilma Gordon, Ann Hudson, and Mary Wing, Master Gardeners (see flyer; pdf)
Wish you knew more about wildflowers and had a wildflower meadow in your yard? This program will tell you how to get started. The presenters will have seeds for common wildflowers, such as Blanket flower, Tickseed, and Brown-eyed Susan to share with the audience.
No registration fee. Please pre-register by calling 352-337-6209 (voicemail). Limited to 40 participants.
Organic No-Till Vegetable Gardening – November 5, from 6:30 p.m. to 7:30 p.m.
Conducted by Scott Schuppie, Master Gardener (see flyer; pdf)
Backyard gardening is a great way to provide healthy food to your home, neighbors, and community. This program will introduce organic no-till farming techniques for your home, school, or community garden. The registration fee is $10.00 and will cover course material and supplies. Limited to 45 participants. No refunds.
Pre-register through Eventbrite.
New Date Added: Holiday Workshop – Tuesday, November 6, 2018 from 4 p.m. to 6 p.m.
Presented by Martha B. Maddox, CEA IV, Family and Consumer Sciences Agent.
! Together we will make a variety of items you can use in gift baskets for holiday gifts. Attendees will receive a booklet full of holiday gift ideas, instructions and the cost to make each versus buying. Hands-on activities and lecture will be combined. Guests will make a variety of gift items from personal to food items to take home.
The registration fee is $20.00, please pre-register by November 2nd. There will be no refunds for the registration fee.
Register for this class through Eventbrite.
---
For more information about these programs call 352-955-2402. Visit the UF/IFAS Alachua County Extension website for additional programs offered by the Extension Office. And be sure to visit their Facebook page.